Now the festive and new year period is firmly behind us, we can start to look forward to brighter and longer days. Warmer weather is on the horizon, and our vitamin D can be absorbed naturally rather than from a bottle! We have a few reasons to eat coming up, such as pancake day and Easter, lots of great sporting events to get excited about and of course, our wonderful Queen's 95th birthday in April!
28 Popular Blogger Marketing Topics For March & April
Bloggers and influencers can help you launch new products and services, spread the word about your brand, help increase your sales and reach engaged audiences in your niche that you otherwise might not have connected with.
But, even though we know we can work with content creators, it can be hard to continually resonate with bloggers and their niche audiences through our marketing campaigns.
Here we have brainstormed 28 popular March and April events to spark some blogger marketing campaign planning creativity.
As you drill down the list, see which topics trigger some inspiration and resonate with your niche and goals. We recommend picking a few key topics that match your brand well and then fleshing them out into more solid campaign ideas. Of course, if you get stuck, we're always on hand to offer our thoughts and advice!
St David's Day (1st March)
Shrove Tuesday (1st March)
World Wildlife Day (3rd March)
World Book Day (3rd March)
Women's Cricket World Cup starts (4th March)
International Women's Day (8th March)
St Patrick's Day (17th March)
Spring Equinox (20th March)
World Poetry Day (21st March)
Earth Hour (26th March)
Mother's Day (27th March)
Daylight saving (27th March)
April Fool's Day (1st April)
Ramadan begins (2nd April)
Oxford V Cambridge Boat Race (3rd April)
World Health Day (7th April)
The Grand National (9th April)
Good Friday (15th April)
Invictus Games begin (16th April)
Easter Saturday (16th April)
Easter Sunday (17th April)
Easter Monday (18th April)
National Tea Day (21st April)
The Queen's 95th (actual) Birthday (21st April)
Earth Day (22nd April)
St George's Day (23rd April)
Shakespeare's birth and death date (23rd April)
94th Academy Awards (27th April)
5 fun ways to work with bloggers and influencers
Commission bloggers to help promote your Easter sales on their blog and socials
Dish out your special coupon codes to bloggers to share with their audiences for Mother's Day
Build an army of affiliates to help you advertise your brand, build engagement and increase your sales
Form a group of loyal brand ambassadors to repeatedly promote your new offerings around key awareness days
Run a competition to create buzz around your products and services for St Patrick's Day or World Book Day. Commission bloggers to help gain entries.
Get your free marketing events calendar
We've created a free, year-long marketing events calendar that is updated yearly so it's ready for your campaign planning. Click here to get yours.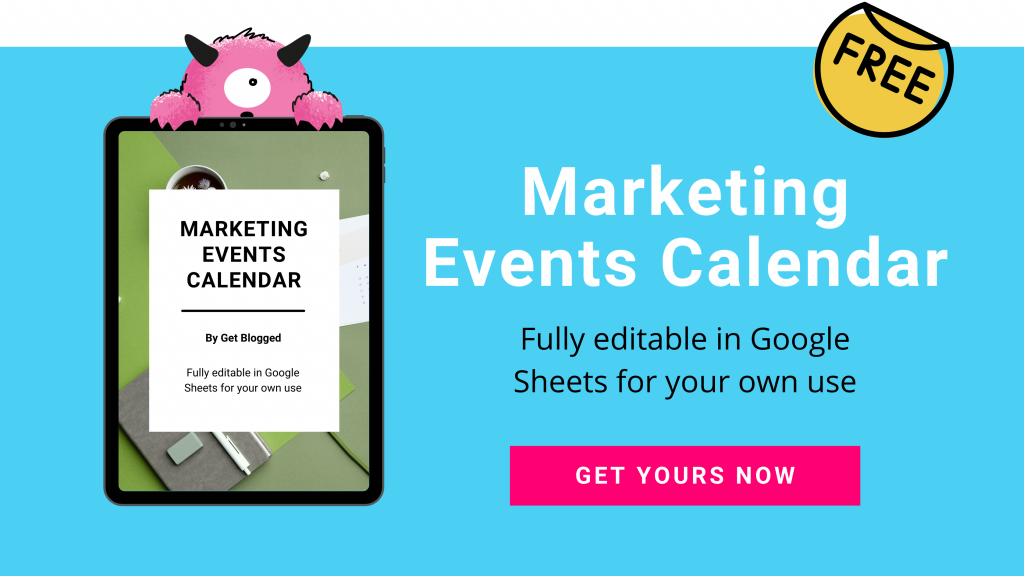 So there you have it, some fresh campaign topics to spark fresh ideas for content creator marketing campaigns in March and April. As we mentioned before, if you get a creativity block and need a fresh perspective, contact us and we'll be glad to help.