We know that seasonal sales are important for retailers, and depending on your product niche, the holidays have the potential to bring you anywhere between over a quarter to over a third of your annual sales.
But how do you take advantage of the holiday bumps in spending? How do you get your products in front of your perfect buyers?
One clever way to increase your sales during the holidays is by getting your products featured in carefully curated blogger gift guides. Think of them like the online alternative of the Argos catalogue at Christmas; online gift guides help buyers easily find the perfect gifts for their loved ones.
Online holiday gifting is starting early this year. Don't miss the boat.
In 2020, over 45% of people said they would be looking for gift guides to inform their purchases during the Christmas holiday season. I'm sure we're not going to forget that in Christmas 2020 in the UK we were all forced to stay inside; unable to hit the high street or give gifts in person.
But the trend of using online shopping over hitting the busy high street has continued. Thanks to advancements in user experience, delivery and customer service, online gift shopping is still a growing and trusted method for gift giving throughout the year, not just at Christmas.
The reality of supply chain issues, staff shortages, and the cost of living crisis in the UK is forcing people to start Christmas shopping earlier than ever due to having to spread the cost. So, it's never been more important to get your holiday marketing sorted early so you don't miss the boat.
Your guide to getting your products in blogger gift guides to increase your holiday sales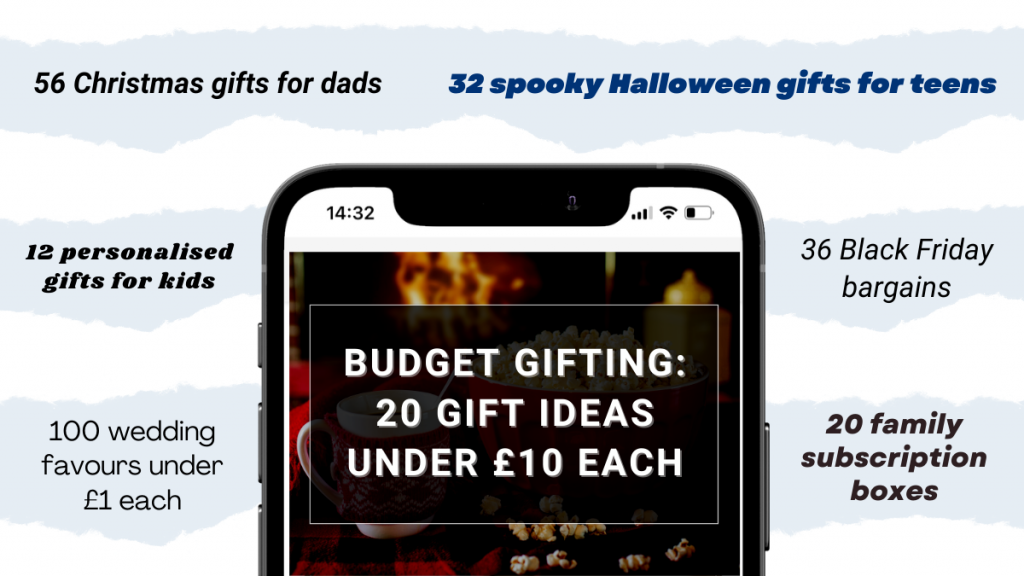 In this article, we'll highlight the benefits of getting your products in gift guides, plus step through the most important and necessary steps to create your strategy whilst adding a sprinkling of inspiration and creativity along the way.
So let's get started. Here's what we'll cover in this article:
What is a blogger gift guide?
A blogger gift guide is a specially curated list of products that a blogger recommends buying online. A gift guide is usually centred around a certain type of person, an event or awareness day, a season, or a common interest.
Blogger gift guides are especially popular pieces of content to create around the commercial holiday seasons such as Mother's Day, Thanksgiving and Christmas.
What are some examples of gift guides?
Here are some examples of gift guide themes:
15 thoughtful gifts for primary school teachers under £10
20 eco-friendly gifts for bridesmaids
25 birthday gifts for inquisitive 5-year-olds
30 books for science-loving teens
35 advent calendars for children under 10
40 digital gifts for overseas family and friends
Go niche
In our experience, the more niche the gift guide, the better chance you've got of being seen by your perfect audience. A broader gift guide like '30 Christmas gifts' would be a better idea for more established blogs that reach a high level of regular and returning traffic.
To illustrate that a little bit further, if you're looking to get your new children's book about the planet on kid's Christmas lists this year, work on commissioning a blogger to add your products into gift guides such as:
10 Christmas stocking fillers for space-mad children
24 affordable gift ideas for science-loving children this advent
5 children's books about planet Earth to give this Christmas
15 books to give 10-year-olds for Christmas
Say you're a jewellery retailer looking to feature your products in a wide range of gift guides to establish new audiences all year round. Working on gift guide themes like these 4 examples below might help you on your mission:
10 statement necklaces for spring brides
15 affordable friendship rings to gift your best friend
20 keepsake jewellery gifts for Grandparent's Day
25 silver earrings ideas for mums this Mother's Day
When do bloggers publish gift guides?
There are so many opportunities throughout the year to get featured in gift guides. By no means is this an exhaustive list but here are 14 popular ones:
Valentine's Day
Mother's Day
Father's Day
Grandparent's Day
End of the school year (thank you to teachers and caregivers)
Back to school
Halloween
Thanksgiving
Black Friday
Small Business Saturday
Cyber Monday
Advent
Christmas
New Year's Eve
Lots of brands also build blogger gift guide campaigns around awareness days such as:
World Mental Health Day
International Women's Day
Earth Day
World Friendship Day
Playday
Organic September
….And even National Cheesecake Day!
Commissioning the blogger gift guides with plenty of time to take advantage of the elevated search traffic around that time is a great strategy to reach your target audience at the exact time they have the cash to spend and the intent to purchase.
How long will my product feature in a gift guide?
Typically, your product will feature in a gift guide until the next instance of the event or season. For instance, if you feature in a gift guide for Thanksgiving, it's likely you'll be in it until next Thanksgiving when the gift guide is republished and out-of-date content is edited out.
That's not to say that you can't arrange to feature in a gift guide indefinitely. As long as your product is readily available over the years then you can state that as part of your agreement with the publisher/blogger.
Another strategy to promote longevity is to supply the blogger with a trackable link that earns them a commission for sales they introduce through their gift guide. That way, it's in the blogger's best interest to keep your products in their gift edits over the years.
How much does it cost to feature my products in gift guides?
Over time you can strike up partnerships with bloggers where they agree to feature your product in return for getting to try your product themselves. The investment there would be producing your product at the cost price plus postage so it's a low-cost way of getting coverage.
However, paid product placements are a much safer way of ensuring your product gets featured. Rates for product placements can range from ££ to ££££ but no matter your budget, there is an abundance of bloggers of all levels and rates with authentic and engaged audiences in your niche waiting to work with you.
How many gift guides should I feature my product/s in?
There's no formula for success here, but authenticity and quality is definitely the key ingredient for success. Invest some time into carefully considering the best blogs you want your products featured in.
For instance, if you want to increase sales for your organic skincare range, find bloggers who feature other reviews and content about organic skincare brands, and who also have an engaged audience that you'd love to attract as your own. Have a look on the blogger's social media pages to see what they post and what gets comments and shares. Do you feel they align with your brand ethos? If yes, they'd be the perfect content partner for you!
What are the benefits of getting my products in seasonal gift guides?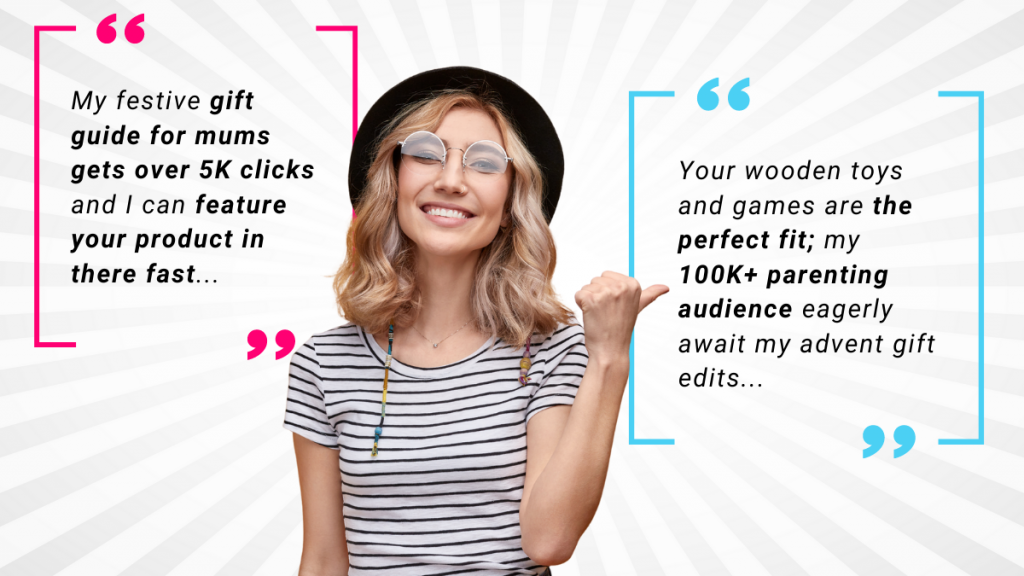 Referral traffic
Brand recognition
Backlinks
…sales!
Blogger gift guides are a seriously good investment. Bloggers will typically bring in commission, revenue and freebies for featuring products in their gift guides, so it's in their best interest to promote their gift guides to their loyal audiences who already trust their recommendations. You can be sure that you will benefit from that too as it's helping to reach new audiences and build target customers from just one product placement.
How can I get my products featured in blogger gift guides?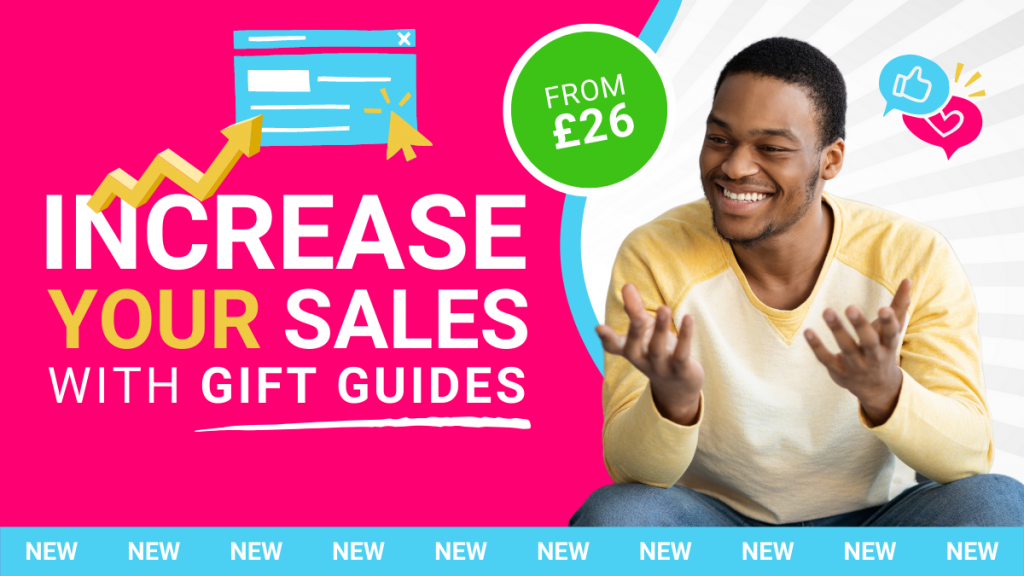 Well, I'm glad you asked! There are various ways to get your products featured in blogger gift guides, but here are two tried and tested methods:
Method 1: Find bloggers using manual blogger outreach
A rather l.a.b.o.r.i.o.u.s way to find bloggers to strike up gift guide agreements with is to search the internet for bloggers who match your ethos and contact them with your idea to collaborate. You'll then spend time negotiating costs and terms, and agree on a mutually beneficial partnership. Be prepared to set aside several weeks for this process to run its course, and make sure you have the time to execute the strategy to its fullest so that you can rewards your hard work with increased sales.
Method 2: Find authentic bloggers – without the outreach
Did you read method 1 and then cry "there must be an easier way to find bloggers to feature my products?" Use Get Blogged to save time on method one and be enjoying a glass of port by the fire toasting your elevated holiday sales quicker than you can mutter ho ho ho.
Get your products in gift guides from only £26 per placement.