It's no secret that bloggers and influencers have a lot of influence. Their recommendations can make a product or service, and their reach is vast. So, for some fun ways to boost your reach this Halloween, why not collaborate with some of the top bloggers and influencers in your niche? Here are 5 ideas to help inspire you.
Table of Contents
1. Create a Halloween contest
Contests are an excellent method to stimulate conversation around your brand. For instance, consider offering a 10% discount on their next purchase if they participate in an Instagram contest showcasing how best to style autumn accessories, or share photos of their Halloween costumes.
Encourage them to use specific hashtags related to the contest, thereby increasing visibility and giving everyone a chance to win. Not only will this enable more people to discover your contest, but it also allows entrants to draw inspiration from others' submissions.
So don't wait! Start planning your social media contest today and let's get people talking about your brand.
2. Sponsor a Halloween-themed blog series
Elevate your brand this Halloween! Create a unique, Halloween-themed blog series as a creative and effective marketing strategy.
Commission bloggers in your niche to create a series of Halloween-themed blog posts, naturally positioning your brand among the ultimate Halloween content hub. Offer up a variety of content from inventive costume ideas to eerie recipes, catering to the diverse interests of bloggers' audiences. This provides an excellent platform to showcase any Halloween-related products or services you offer.
Forge partnerships with bloggers this Halloween – supply them with your products for review, present exclusive discounts to their readers, or design a special tracking code that allows bloggers to earn commission on sales referrals. It's time to act! Let's turn the spooky season into a branding boon with a Halloween-themed blog series.
3. Collaborate on a Halloween-themed giveaway
Capitalise on the Halloween excitement by partnering with bloggers for a themed giveaway. This is an ideal opportunity to amplify your brand's visibility, generate buzz around your products or services, and foster relationships with influencers.
To kick-start this collaboration, begin by identifying bloggers who resonate with your brand and have a substantial following (you can get started on that part for free on GetBlogged!) Reach out to them with a personalised proposal outlining your idea for the Halloween-themed giveaway. Make sure to highlight the mutual benefits of this partnership – increased visibility and engagement for both parties involved.
Next, brainstorm together to finalise the details of the giveaway. What will the prize be? How will the winner be chosen? How will you promote the giveaway? Don't forget to discuss the possibility of pooling resources with other brands to create an irresistible prize package.
Finally, ensure that you have a tracking system in place to measure the success of the giveaway. This could involve tracking codes, unique URLs, or custom hashtags.
4. Plan an event at your store or at a popular haunt in your area
Leverage the allure of in-person events to boost footfall to your brick-and-mortar store. Involving bloggers and influencers is a powerful way to increase your store's visibility and engagement. Invite these online personalities to experience your store firsthand, test your products, and capture their visit through photos or videos.
To make your event more appealing, incorporate a Halloween theme. Serve enticing Halloween-inspired food and beverages. Transform your storefront into a spooky spectacle with cobwebs, spiders, and other eerie decorations. As an added incentive for attendance, offer exclusive discounts or unique gifts to your guests.
So, how do you find the right bloggers for your event? Here are some actionable steps:
Identify Relevant Bloggers: Start by identifying bloggers who align with your brand and have a significant following. Look for those who frequently cover topics related to your industry or product range.

Research: Read through their blogs, and understand their style of writing and the type of content they create. This will help you tailor your outreach message.

Outreach: Reach out to them with a personalised invitation to your event. Highlight the benefits they'll gain from attending – like exclusive access to products, networking opportunities, and content for their blog.

Follow-up: Don't be discouraged if you don't get a response immediately. Follow up after a week or so to show your continued interest.

Collaborate: Once they've agreed to attend, work closely with them to ensure they have all the information they need about your event. You could also discuss potential collaboration opportunities, such as sponsored posts or product reviews.

Use Online Platforms: Consider using platforms like Get Blogged to advertise for bloggers for your event. This helps speed up the blogger outreach and reach a broader network of bloggers looking for events to attend.
By taking these steps, you can effectively involve bloggers in your event and create a buzz around your store this Halloween.
5. Plan a spooky scavenger hunt for people of all ages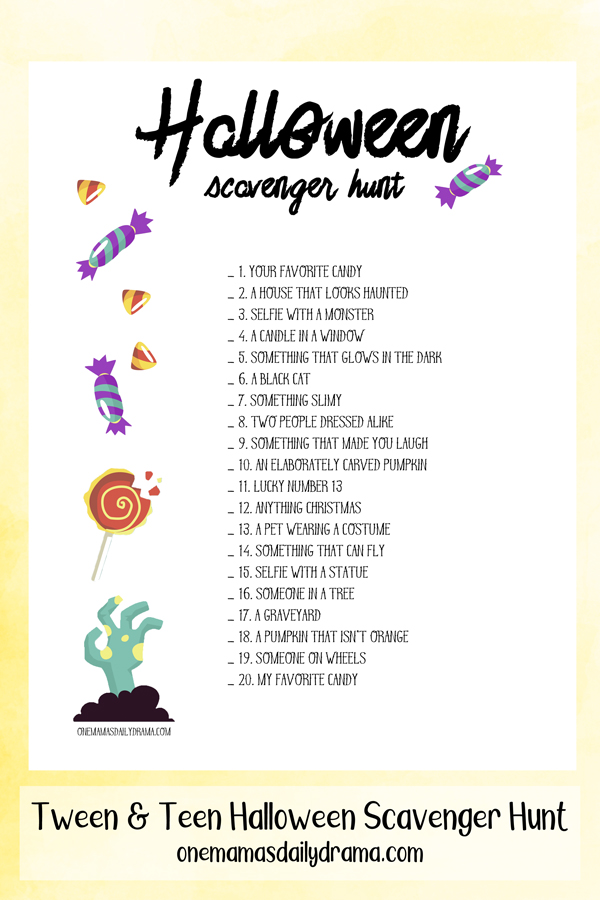 Ignite the Halloween spirit by organising a thrilling scavenger hunt, inviting influencers and participants to unravel clues scattered around your area. Add a twist of fun with a pumpkin carving contest and let influencers have the honour of selecting the most creative masterpiece.
Elevate the excitement further by hosting a costume contest, rewarding the best-dressed attendee with an enticing prize. This not only encourages participation but also adds a dash of colour and creativity to your event.
To amplify your event's reach beyond your immediate locality, create some Halloween-themed social media graphics. These can be shared by your guests on their social media platforms, spreading the word about your event and brand. Alternatively, set up a Halloween-themed photo booth where attendees can take selfies and share them, adding a personal touch to their social media posts.
For businesses operating online, don't miss out on the Halloween cheer. Host a spooky-themed contest on Instagram or Facebook. Encourage participation by asking users to share photos of themselves donned in their Halloween best. This not only engages your audience but also creates user-generated content, boosting your brand visibility.
Are you ready to get started?
There are endless possibilities when collaborating with bloggers and influencers this Halloween season. By getting creative and thinking outside the box, you can come up with a collaboration that will be beneficial for both you and the bloggers/influencers involved. Plus you'll create content that will resonate with your audience and leave a lasting impression. So, what are you waiting for? Go ahead and let your imagination run wild this Halloween!