Did somebody say Christmas countdown? (Too early? OK, OK, I won't mention it again. Or will I…) We're now more than halfway through 2022 and it feels like it was only yesterday that we were getting ready for summer events, beach days, park picnics, school and work holidays and navigating seasonality drops or surges (obviously it's different depending on what industry you're in.) But no matter how much fun you had in the summer months, the autumn time brings a bit of (I think, much-needed) stability and heightened spending behaviour as we focus on building up to the festive (oops) season.
In this guide, you can expect a list of awareness days and events in September and October, invaluable information on key traffic trends to take advantage of, and creative campaign ideas to steal for yourself, so grab a beverage of your choice and prepare to be inspired…
Table of Contents
17 marketing opportunities in September and October 2022
There are huge benefits to collaborating with bloggers, including traffic and sales boosts and increased visibility in key markets – sounds ideal, right? But we know that when you're under pressure to put together an engaging blogger marketing plan it can be hard to come up with ideas for each month.
Well, you're in luck because we're always happy to help with campaign ideas!
We have invested our time (so you don't have to) today to bring you 17 awareness days and key dates in September and October to spark some blogger marketing campaign inspiration. Once you've downloaded our free marketing calendar for keeps, read on to learn how you can turn key dates in your calendar into sales opportunities all year long.
World Beard Day (3rd September)
Roald Dahl Day (13th September)
100 days until Xmas (16th September)
Talk Like a Pirate Day (19th September)
World Car Free Day (22nd September)
Autumn Equinox (23rd September)
Jewish New Year (25th September)
World Tourism Day (27th September)
World Vegetarian Day / International Coffee Day (1st October)
Grandparent's Day / London Marathon (2nd October)
World Animal Day (3rd October)
World Teacher Day (4th October)
World Mental Health Day (10th October)
World Food Day (16th October)
Diwali (24th October)
Apple Day / World Pasta Day (25th October)
Halloween (31st October)
3 ways to collaborate with bloggers and influencers on awareness days in September and October
It's all very well me giving you a list of dates and expecting you to have some kind of eureka marketing moment, but I'm not finished yet! Here are three examples of how to use an awareness day or seasonal celebration to create a marketing campaign…
Grow your reach with travel bloggers on World Tourism Day
So, say you operate tours for adventurous tourists looking to explore the hidden gems of Australia. Using the hook of World Tourism Day is the perfect strategy to help your content reach your target audience at a very relevant time.
You could commission a handful of bloggers to publish engaging and comprehensive content around the "must-see spots", the "must-taste dishes" and the "must-experience moments" whilst in Australia. Urge bloggers to share the content on their social networks and encourage engagement with their audiences by offering free tour vouchers to the first 5 people to sign up for your newsletter.
Reach your perfect customers on Grandparent's Day
If you're a retailer of products for humans of grandparent age, don't miss the opportunity to reach your ideal target market – by getting your products in gift guides for Grandparent's Day. A gift guide is a specially curated list of products that the blogger wholeheartedly recommends to their readers.
Typically, gift guides would be called something like "23 personalised gifts for grandmothers" and would contain products that the blogger has had the chance to use or review on a gifted basis (but not always.)
So, you might be a retailer of luxury bedding, skincare for mature skin, supplements, clothes, books or something else entirely – if Grandparents make up part of your target audience, commissioning bloggers to include your products in their Grandparent's Day gift guides is a master marketing stroke.
It's these perfectly timed content placements that should not be overlooked in your marketing strategy. And you're in luck because you can get your products in all sorts of gift guides from only £26 on Get Blogged.
Join in the fun of Halloween and increase your sales while you're at it
Whether you're an online craft supplies retailer, a kid's party planner, a sustainable clothing brand or a food manufacturer, there are countless ways to use the Halloween season to your advantage. Let's pick an example of how to promote a craft supplies site…
You've got paper, glue dots, glitter, scissors and a host of DIY Halloween decoration inspiration on your site that you want to drive craft-supply-hungry traffic to. What better way to do this than to challenge parent bloggers to decorate their spaces with their own DIY decs, whilst encouraging them to shout from their ghostly rooftops about exactly how they achieved such a fabulous look (with your products and guides of course!)
As a Brucey-bonus, what better way to get your target audience engaging with your brand than to be part of the conversation. Make sure you drop in on the comments and share the images and comments on your platforms for an extra buzz.
Before you finalise your blogger marketing plans, take a look at these sales traffic trends
The next few months (September to December inclusive) are positively brimming with exciting opportunities to reach your perfect customers, with a number of key shopping occasions on the calendar as we've outlined earlier. Here are a few occasions we anticipate to be popular with buyers based on e-commerce search trends…
Halloween traffic trend:
Picks up: 1st August
Peaks: 3rd October
Tapers off: 30th October
Hannukah traffic trend:
Picks up: 10th October
Peaks: 9th November
Tapers off: 10th December
Thanksgiving traffic trend:
Picks up: 1st September
Peaks: 4th November
Tapers off: 28th December
Advent traffic trend:
Picks up: 15th September
Peaks: 15th October
Tapers off: 25th December
Christmas traffic trend:
Picks up: 1st September
Peaks: 28th November
Tapers off: 29th December
Don't forget your free marketing events calendar
We've created a free, year-long marketing events calendar that is updated yearly so it's ready for your campaign planning. Click here to get yours.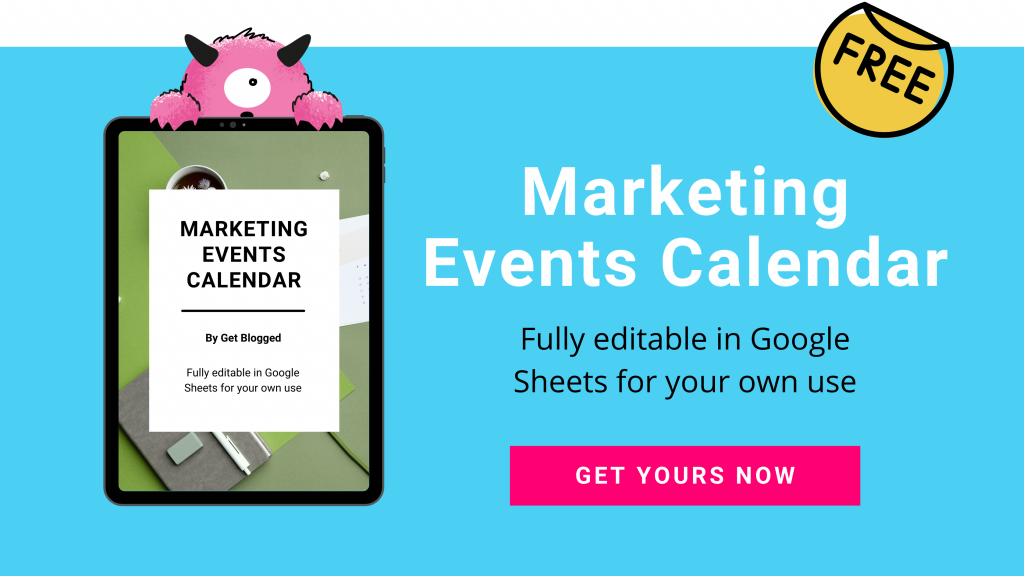 Let's start Q4 with a solid blogger marketing plan
So there you have it, some campaign topics to spark fresh ideas for content creator marketing campaigns in September and October, plus insight into key shopping trends until the end of this year. As I mentioned before, if you get a creativity block or need a fresh perspective, or you simply want to hear what is working on Get Blogged currently, get in touch and we'll be excited to help.
Post your blogger marketing campaign for free today and get enthusiastic proposals from our 20K-strong blogging community within hours (usually minutes!)