Authority Score is a quality metric developed by the online visibility management platform Semrush.com. It is a metric used for measuring the overall quality and SEO performance of a site, based on quality, popularity, and backlink signals. Authority Score is measured on a scale from 0 to 100, with the higher scores being the most authoritative. 
The score can be found in many places including when looking at a Domain Overview, Backlink Analytics, Backlink Audit, or the Link Building Tool on Semrush.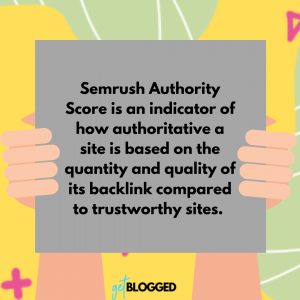 Authority Score looks at a range of different trustworthiness and authority factors which are fed into a neural network and machine learning to calculate the rating. There is a two-step process; initially, the Semrush algorithm uses organic search data, website traffic data, and backlink data to weigh up the value of the most popular and trustworthy sites on the internet. 
Then, a second algorithm uses backlink data to detect how a website increases or decreases its authority by gaining links. This second calculation looks at a range of inputs including the number, quality and ratio of followed to no-followed inbound and outbound links. The result of this calculation is then compared to those from the most authoritative sites. 
Authority Score serves as an indicator of the overall quality of a domain or webpage, so a site that has many links may not have a score as high as a site with fewer links if those many links are of lesser quality. This metric is best used when comparing domains and not for determining the quality of domains on an absolute scale. This means a domain should be judged in relation to similar websites in the same or similar niches. 
Semrush's Authority Score is not a ranking factor used by Google but may provide useful information for search marketers when looking at potential sources of links and offering competitor analysis.