Web traffic is the amount of data sent and received by visitors to a website. Traffic is a key indicator of how well a website is ranking in search engines with sites ranking well drawing the most traffic.
Traffic from Semrush.com is an estimated count of visits, unique visitors, page visits and other engagement metrics for a domain as determined by Semrush. It is considered a market intelligence and competitive research tool. Semrush uses its own machine learning algorithms and trusted data providers to calculate this metric which can be found via Semrush Traffic Analytics and Semrush Market Explorer.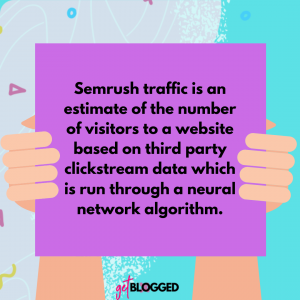 Information presented in the Semrush Traffic Analytics tool is the result of hundreds of partnerships with clickstream data providers which record 'events' on the internet. Clickstream data is a detailed log of how participants navigate through the Web site during a task. Additional data comes from Semush's database of backlinks and organic search engine positions. 
This data is then run through Semrush's neural network algorithm, a combined algorithm that references various sources of data and spots patterns in the same way the human brain understands patterns, to determine a realistic estimation of traffic based on statistical sampling.
The Semrush Traffic Analytics tool also offers information on traffic sources, geolocation analysis of traffic, average visit duration, bounce rate analysis, mobile/desktop traffic and historical data going back to January 2017.
Semrush traffic is not a ranking factor used by Google however, search marketers can use it to monitor engagement on sites they are working on to gauge success or failure of tactics they have implemented. Semrush data also offers the opportunity to research competitors.