Trust Flow is a trademark quality metric developed by software company Majestic.com to perceive the quality of a website based on the quality of its backlinks. Majestic Flow Metrics are designed on the basis of influence flowing from one site to another via links, with the highest quality site having the highest Trust Flow to pass on to the site it links to, this second site will have a lower Trust Flow than the first and will pass on a lower Trust Flow amount to the site it links to, a third site in the Flow tree.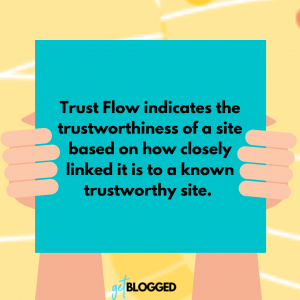 Trust Flow is described as being 'weighted by the number of clicks from a seed set of trusted sites to a given URL, or Domain'. What does this mean? Majestic started to build their algorithm based on thousands of URLs from all over the internet, which were manually reviewed; seed sites. They determined that trustworthy sites tended to link to other trustworthy sites and the data collected was used on a logarithmic scale to determine these seed site's scores.
Trust Flow is on a scale from 0-100, measuring the trust passing through linked pages across the web, with the higher the score representing a site closer to a trustworthy site and therefore more likely to be a trustworthy site itself.
Majestic applies 800 categories to all sites they crawl to determine quality, with topical trust flow offering a scale of 0-100 showing how related to a topic or category that site is. For example, BBC.com has topical trust flow 75 for Arts/ Television, 62 for Recreation/Radio and 51 for News/ Media Industry which suggests they are a big player in Television, Ratio and News.
Trust Flow is used alongside their other flow metric, Citation Flow, which primarily focuses on determining the trustworthiness and quality of your site by looking at the popularity of the site, or the number of links pointing to it. Ultimately the ratio of Trust Flow and Citation Flow is used to assess the overall authority of a website based on its backlink profile. The closer the ratio between the two metrics, the better as this indicates that the majority of the backlinks are of good quality.
Majestic is a third-party tool and its metrics are not used by Google as a ranking factor, however, Flow Metrics can be a useful indicator of quantity which can aid search marketers when making strategic decisions.