Blogging is no longer only a hobby. It's a source of income, a platform for raising awareness and a place to connect with others. It enables bloggers to collaborate, be given the chance of incredible opportunities and create lasting connections.
According to this comprehensive blogging report by GrowthBadger, there are over 600 million blogs worldwide. This astounding number is a combination of blogs created across various platforms (the main platforms being Tumblr and WordPress), brands that have a blog on their website, and more.
With that in mind, it is difficult to stand out from the rest. How do we stand out? What does each and every blogger bring to the table?
What Can You Expect From Working With Bloggers in 2022?
Diversity
The most commonly known niches for bloggers are lifestyle, travel, food, parenting, wedding, beauty, fashion and blogging itself. But what about the other niches? Disability, chronic illness, mental health, religion, entertainment, gaming, and so many more.
It is so important for every community to be represented equally which is why more and more bloggers are not sticking with one niche. Diversity is fast becoming a prominent element within the bloggersphere. Representation matters.
Varied Ranges of Experiences and Perspectives
Another element to consider when working with bloggers is their experiences and perspective or approach. For example, I know several disability bloggers. Do we blog about the same topics? Sometimes. Do we share the same motive behind the WHY we choose to write about the same topics? I think it's safe to say we write to raise awareness, to share our individual experiences, to establish what needs to change.
You might ask, what makes us stand out individually?
Each experience is different, no two will be the same. We each have different outlooks, approaches and perspectives. Blogging can be interpreted as advocating as we are all expressing our unique experiences, tips and advice. This applies to every niche because we are different in our own individual way.
Voices are to be heard; every single one of them.
Reliable and Well-Prepared
With thousands, possibly millions of articles on the subject of blogging – tips, how-to's, pitching, to name a few, bloggers can quickly become knowledgeable about several aspects of blogging. This certainly is no different when working with brands. We strive to make a good lasting impression, therefore we are always ready to learn, actively researching and not only ensuring that we are the right blogger/influencer for your brand but if you're the right brand to work with us.
Every blogger is dedicated to their blog, just like the next person is in their respective career. We are well-accustomed to meeting deadlines, actively communicating with you to make sure we provide excellent content, which makes us reliable.
Personal Touch
Let me ask you something. Would you prefer AI content generators or bloggers who are real people and can instantly add the personal touch without clicking buttons or filtering to meet your specific requirements, to write content for you?
AI content generators are on the rise, but when you strip them back to their very core, they're all wired the same. They'll eventually produce the same content and will no longer be reliable.
Bloggers are here to stay, we have different perspectives, we are reliable, personal yet diversified.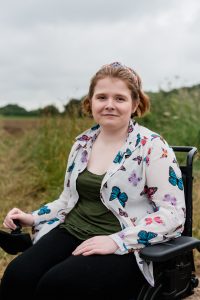 Author: Ami Hook-Ireland
I'm Ami, a 27-year-old multiple-niche blogger from Norfolk. I have several disabilities and have a passion for raising awareness. My blog, Undercover Superhero, covers topics such as disability, parenting, and Marvel. I'm an avid writer, contributing guest posts and articles to various blogs and publications. I'm married, and we have a 1-year-old daughter. I enjoy connecting with others, learning new ways to improve my blog, and volunteering. Plus, I'm a huge Marvel fan.