Bloggers, creators, influencers! Please join us on the Get Blogged 5-Day Affiliate Challenge between Monday 20th and Friday 24th of February 2023.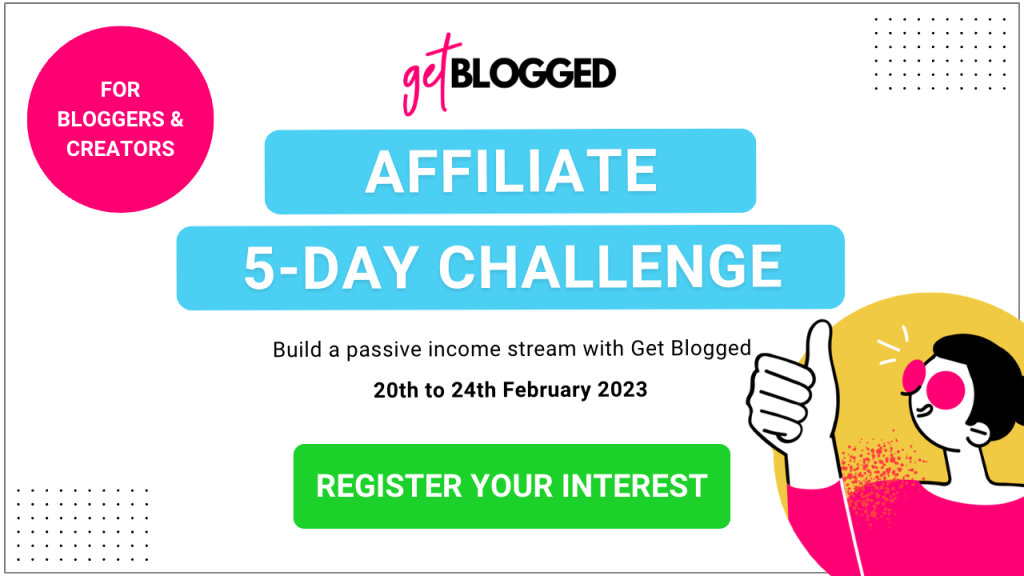 WHAT'S THE CHALLENGE ABOUT?
The challenge is all about giving you the tools to propel your affiliate status with Get Blogged and to lay the groundwork for building you a new passive income stream.
HOW DOES THE CHALLENGE WORK?
During the challenge, we will guide you through 5 simple tasks (and loads more to take away) that will set you well on your way to earning commission from our generous affiliate plan.
WHAT TASKS WILL THE CHALLENGE ENTAIL?
The tasks we will help you complete each day will include giving you tips for sharing your unique Get Blogged affiliate URL on your social networks, reaching out to brands you've worked with in the past who you think will love to use the Get Blogged platform to find bloggers in their niche, and posting pre-designed banners on your blog + we'll give loads more insight and tips to take away.
WHEN IS THE CHALLENGE?
The Get Blogged Affiliate Challenge runs from Monday 20th February 2023 to Friday 24th February 2023.
YIKES! I CAN'T COMMIT TO 5 DAYS!
Can't make 20th February 2023, or can't commit to the entire 5-day challenge? No sweat! Just dig in and out of the challenge when you have the time; you'll still be in with a chance of winning the spot prizes throughout the challenge no matter how many challenges you complete.
WHAT IS THE GET BLOGGED AFFILIATE SCHEME?
We operate generous commission plans which means you can make money upfront and over the lifetime of a brand signup. As soon as the brand user you have sent to Get Blogged creates an account, you earn a commission. It doesn't stop there! You continue to earn commission on each campaign they list, and each hire the brand completes. Most of the brands using Get Blogged go on to create multiple campaigns and will, on average, hire 2+ bloggers per campaign… month after month! This means you can build an income stream that pays out over the long term.
WHAT COMMISSION DO I GET?
You can have a look at the blogger commission plans here. (Heads up – you have to have a blogger account to view the info.)
DID YOU SAY PRIZES? WHAT CAN I WIN?!
We have daily spot prizes (such as Get Blogged swag, vouchers and fun stuff) for challengers to win. Also, remember, no matter how many of the challenges you complete during the challenge, every single action you take during the challenge or after is another method for earning commission from our generous affiliate plan.
Have a look at this case study for a little more insight into a fellow blogger's commission from just one brand signup.
SIGN UP FOR THE GET BLOGGED AFFILIATE CHALLENGE NOW
Please fill in our form to register your interest, and we'll send you everything you need to join us on the Challenge from 20th February. We can't wait to help you create a brand-new passive income stream!