Welcome to this month's Blogger of the Month.
We love our Blogger of the Month feature, it helps us go behind the scene with some amazing bloggers! This month is a good one – you're in for a great read and some really inspiring tips on how to grow your blog in 2022.
This month, we've caught up with the lovely Vicky of Miss Tilly and Me. Vicky has been blogging since 2013 and posts about life as a parent and grandparent along with being open and honest about mental health and a passionate advocate for online child safety.
We love Vicky's blog and we're excited to see what you think of this month's Blogger of the Month instalment…
Here's what Vicky had to say when we caught up with her…
Please tell us a bit about your blog…
My main blog is Miss Tilly And Me, where I talk about life as a parent and now a grandparent. I have also used my blog in the past to talk about mental health and how to keep kids safe online.
Nowadays it is a mash of all sorts of things because I have bipolar and it shows in my blog. One week I will want to talk all about parenting and the next all about beauty. But somehow my blog seems to come together.
It is my baby, and I am so protective of it. It is one thing that I have been able to do constantly for years, without losing interest and walking away from it.
How long have you been blogging?
I have been blogging since 2013, so 9 years now. I started out my blog life as Being Tilly's Mummy, but as Tilly got older I needed a more grown-up blog name. One that would grow with Tilly.
Sometimes I look back at my old blog posts and realise how rubbish they were, the grammar was bad and the images were out of focus. But then it makes me realise how much I have grown as a blogger. It also makes me realise that in 2013, I started something that I knew nothing about and I self-taught myself to become a proper blogger.
What inspired you to start your blog?
I had spent over two years suffering from PND, and I don't remember anything from 2010 to 2012. Apart from feeling lonely and sad. I wanted to record my time with Tilly and be able to look back if I did forget moments with her. I named the blog 'Being Tilly's Mummy' because, after three years of being her parent, I finally felt like I was now actually being her mummy and not just functioning like a zombie. I had a manager at work who also encouraged me to keep it going because she knew it would help my recovery.
Then after my 18-year-old daughter disappeared from my life, after being groomed for 2 years under my nose. There was nowhere online to get help and advice. So all of the hate for the perpetrator and the passion for wanting to protect other kids from the same fate, made me carry on and write. It helped me from spiralling downwards. It gave me something to live on for. It is funny my little blog has saved my life so many times. That's why I love it so much.
Who are some of the coolest brands you've worked with?
Although I have worked with some cool brands in the past. Since Covid, we have worked with fewer brands. When we went into 'Covid' Tilly was working with lots of toy brands because she was only 9 years old. Now suddenly, as we come out of Covid, she is a 12-year-old young lady, so we need to find new brands to work with.
We have worked with Nintendo before, they are awesome to work with. We have worked with Amazon Kindle and Baby Annabelle. Camp Bestival was awesome too. Tilly met Lewis Capaldi there and she couldn't breathe afterwards. I thought she was going to faint. I have worked with so many brands over the years and I always encourage Tilly to get her friends involved so that she can share her opportunities. I loved working with Design Bundles, and that is the reason I bought a Cricut which I love 🙂
What do you like about Get Blogged?
I like that you get paid super fast from Get Blogged and it the funds go into a little 'money pot' that you can withdraw when you need it. Then it goes to PayPal. So if I have not made much one blogging month, I can use the Get Blogged money.
I also like that you can choose multiple blogs when you do a pitch, this saves me applying for each one individually. I also like the social side too; there is a Facebook group, where you will find interaction threads and can ask for advice. The staff from Get Blogged are great with their customer service.
What are your tips for bloggers who want to make money with their side hustle?
Don't expect to be a millionaire overnight, it is a tough world in blogging. If you have recently started a blog, you need to get some really good blog posts on there. This means brands can see what your writing style is like and they learn more about you.
If you started a blog, just to make money but you fill it with PLR content brands are going to see those exact blog posts on 27 other blogs applying for an opportunity. They will know it is not your own unique work and you will not get paid work. Build your blog up, to something you are proud of and then start applying for paid work.
Don't be scared to accept £10 for a blog post if you need the money. At the moment it is very hard to cover the bills, rent, food etc. So £10 is the difference between a small shop for you and not eating. Equally please don't judge others for taking the small fees because you do not know their circumstances. They might be hiding from bailiffs on a daily basis.
Lastly, enjoy it. If you start losing your passion for your blog, then it is time to take a break and go back to writing for yourself again.
How do you feel about being chosen as Get Blogged's blogger of the month?
I have had a rough time of it over the last couple of years, like everyone. So to be chosen as blogger of the month is awesome. It is like something good is happening again.
It is great to be able to share my story with you all. I don't like being the centre of attention, but I think I need little pushes like this sometimes.
Share your links for everyone to follow you!!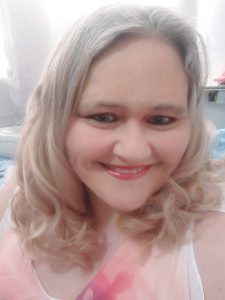 I have a few blogs going on in my life at the moment. So you can find us at :