Welcome to this month's Blogger of the Month.
We love our Blogger of the Month feature, it helps us go behind the scene with some amazing bloggers! This month is a good one – you're in for a great read and some really inspiring tips on how to grow your blog in 2022.
This month, we've caught up with the lovely Emma of Emma Plus Three. Emma has been blogging for six years and writes about days out, family life, fashion, travel and more.
We love Emma's blog and we're excited to see what you think of this month's Blogger of the Month instalment…
Here's what Emma had to say when we caught up with her…
Please tell us a bit about your blog…
My blog covers a range of lifestyle topics. It's definitely changed over the years depending on what's been going on in my life. I've always featured family life and fashion but there's now more home content than ever before as we are renovating our house.
How long have you been blogging?
I've been blogging for six years now. It's been so long that it's become second nature for me to record my life in this way. I'm very proud of my blog and how far it's come.
What inspired you to start your blog?
When I first started my blog my son was going through his autism diagnosis. It was an overwhelming time in my life so I started my blog to write down my feelings, but also to try and connect with other parents going through the same thing.
My son is 11 now and I don't feel comfortable sharing personal details like this anymore, so my blog has definitely evolved since that time.
Who are some of the coolest brands you've worked with?
I've been lucky to work with lots of amazing brands over the years. Some of my favourites have been Away Resorts, McDonald's, Eurocamp, Amazon, Butlins and Great British Racing. I like it when a brand gives you the freedom to be creative with your content.
What do you like about Get Blogged?
It's so easy to use. I've tried a few blogging platforms over the years and they are either too difficult to understand, or they don't bring you any work. I've only been on Get Blogged for a few months but I've already worked on lots of assignments.
What are your tips for bloggers who want to make money with their side hustle?
Stick at it. I've seen so many blogs come and go over the years because people think that the money will start rolling in straight away. It's the same as with anything in life, you have to put in the effort if you want to see the rewards. But more than anything, you have to enjoy it.
If you're just in it for the money, it probably won't happen. I started my blog purely as a hobby, I had no idea you could make money from it. Even now, if the money was to disappear I can honestly say I'd still be here tapping away on my laptop.
How do you feel about being chosen as Get Blogged's blogger of the month?
I'm over the moon to have been chosen! There are so many amazing bloggers out there, it feels good for little old me to have been recognised. Thank you to the Get Blogged team!
Share your links for everyone to follow you!!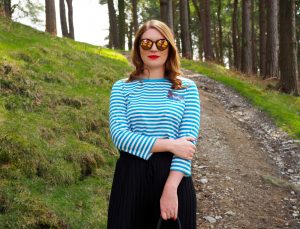 I would love for you to come and check out my blog, or follow me on social media. Instagram is where you will find me the most.
Blog – https://emmaplusthree.com/
Instagram – https://www.instagram.com/emmaplusthree/
Facebook – https://www.facebook.com/Emmaplusthree/
Twitter – https://twitter.com/Emmaplusthree