Bloggers and Influencers have a major role to play if you are trying to improve the visibility of your brand. The popularity of Influencer Marketing continues to increase.
Unfortunately, many brands are still sceptical because they have not been able to measure the effectiveness, and understand the importance of collaborating with Bloggers and Influencers.
Influencer marketing is a worthwhile investment, and more and more brands are investing their money in it. It is a great option for businesses that want to improve their brand awareness, credibility, sales and reach.
This article talks about the many benefits of working with Bloggers and Influencers, and whay you should start including them in your marketing plans.
What's An Influencer?
Influencers are those who have built a following on their blog and/or their social platforms such as Instagram and Youtube.
They are seen as a credible source of information, and they can affect purchasing decisions due to their authority, knowledge or relationship with their audience.
Bloggers and Influencers are not mere marketing tools. They are an asset that brands can use to build social relationships, thus, working with them makes it possible to meet marketing objectives.
Nano, Micro And Macro Bloggers
There are different levels of Bloggers and Influencers, and it's important to choose the most appropriate one for your brand.
You must understand your brand well if you want to choose the right collaboration. Some brands may choose to engage with more than one level of Blogger or Influencer to maximise budget and to get a more varied result.
Paying the biggest Blogger or Influencer may seem like the best option, but it is not always the right one. We explain the difference between Nano, Micro and Macro Influencers below:
Nano Bloggers
These are the smallest influencers in terms of following; they have an average of 500 to 1000 followers.
Even though they do not have many followers, working with them to promote your brand is still very effective because most of their followers are highly engaged and can personally relate to them. Their followers trust them and are likely to believe what they say.
Many Nano Influencers will collaborate with you for under £100 per campaign.
Micro Bloggers
Micro Bloggers and Influencers tend to have more followers than Nano Bloggers. They may have anywhere between 1000 to 10,000 followers.
Their followers trust them because they have a lot of expertise on certain subjects.
They have earned the loyalty and credibility that their followers accord them. Most of their fans can relate to them on some level, therefore trust their opinions.
You can expect to collaborate with Micro Bloggers and influencers with budgets in the £100s.
Macro Bloggers
Macro Bloggers and Influencers can relate with their audience because they have expert knowledge in their respective fields.
They usually have a following of 10,000 upwards, but their stats are sometimes very much higher than that.
Their content is of very high quality, and Macro Bloggers and Influencers tend to command fees in the high £100s to £1000s per campaign.
Why You Should Work With Bloggers And Influencers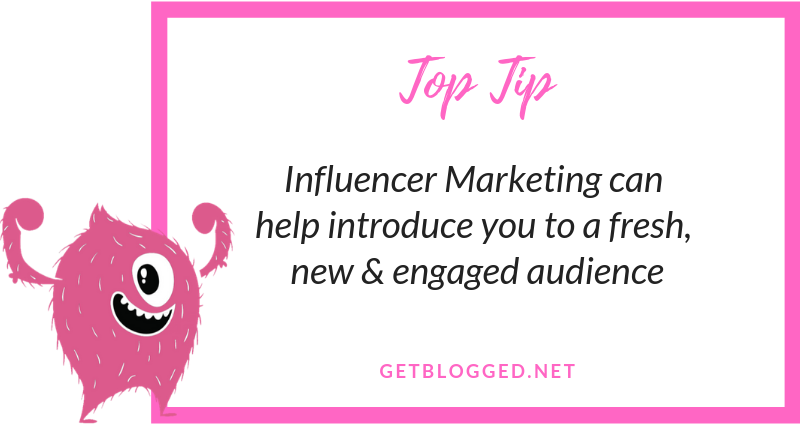 Content in the form of blog posts, social shoutouts and product reviews from Bloggers and Influencers gives you the chance to meet a fresh, new, engaged audience that you wouldn't otherwise be able to reach with other forms of marketing.
Before you start your Blogger Outreach Strategy, it's good to understand what it is that working with Bloggers and Influencers can gain you.
Working with an Influencer with millions of followers doesn't always mean that you will achieve the engagement your brand needs. Here's why it's a good idea to work with Bloggers and Influencers of all levels:
1. Bloggers and Influencers Have Higher Engagement Rates Than Celebs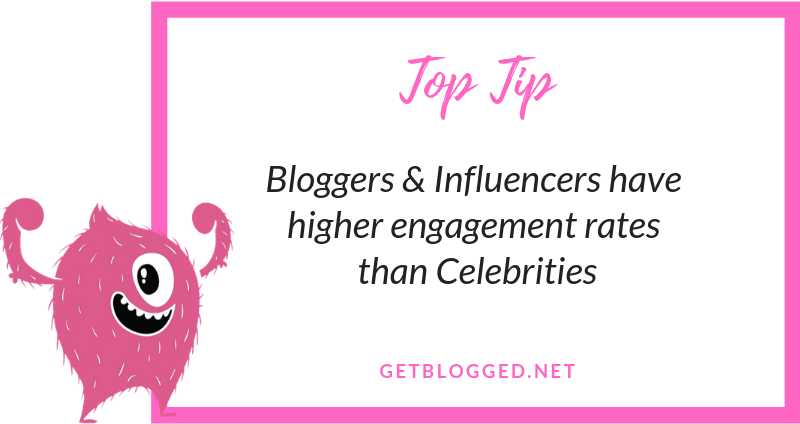 Bloggers and Influencers have higher engagement rates than celebrities. Celebs usually have millions of followers, and they tend not to engage with their audience.
Micro Bloggers and Influencers do not have an overwhelming amount of followers so they are more likely to have personal engagements with their audience.
2. They Are Trustworthy
Most millennials prefer products that non-celebrities endorse as they seem more honest and down to earth. People can relate to an Influencer more than a celeb.
3. They're More Affordable
Bloggers and Influencers can create large volumes of content for low costs. They can also bring a fresh, modern and vibrant perspective to your marketing.
4. They're Authentic
The secret is to find Influencers who represent whatever your brand stands for.
Bloggers and Influencers can increase the authenticity and credibility of your brand. The buying public rely on real reviews of your products and services, and Bloggers can provide honest perspectives that your customers will appreciate.
5. Influencers Bring A Fresh Perspective
51% of brands that have used Influencers agree that their content is more effective than content created by the brand. By 2020, over 50% of ad content will be from outside sources.
6. They're Relatable
It was recently discovered, that out of every ten teens, four believe that their favourite Influencers understand them better than their friends.
7. They Are Well-Versed
Bloggers and Influencers have knowledge in a wide range of niches, but tend to specialise in a certain area so that they can be seen as experts in their fields.
8. Bloggers Are Valuable Connections
Bloggers and Influencers provide useful backlinks and referrals from their sites and social networks.
As we mentioned before, they can also help improve your sales by being loyal brand ambassadors.
Save or share this handy guide that shows you the main benefits of working with Bloggers and Influencers.
Finding Influencers Usually Requires A Lot Of Research. Not Any More.
You've hopefully now learned that most consumers trust Bloggers and Influencers, especially when doing research about a product or brand. It is important to take advantage of this to improve the awareness of your brand.
But where to start?
Get Blogged: Work With The Very Best Bloggers Within Your Budget
That's where Get Blogged comes in. We match the very best Bloggers and Influencers to your campaign, and work with them to create content their audience will love.
We take the pain and stress out of Blogger Outreach, and produce high-quality content on your behalf for a really affordable cost.
Sound good? Get started.
Sources: Forbes