The Get Blogged Dev Team have been working hard behind the scenes to build and launch a new feature; what we're lovingly calling 'Fund Account.' I'm here to run down the features and list the reasons why we believe this new handy feature will save you time and money!
What is 'Fund Account?'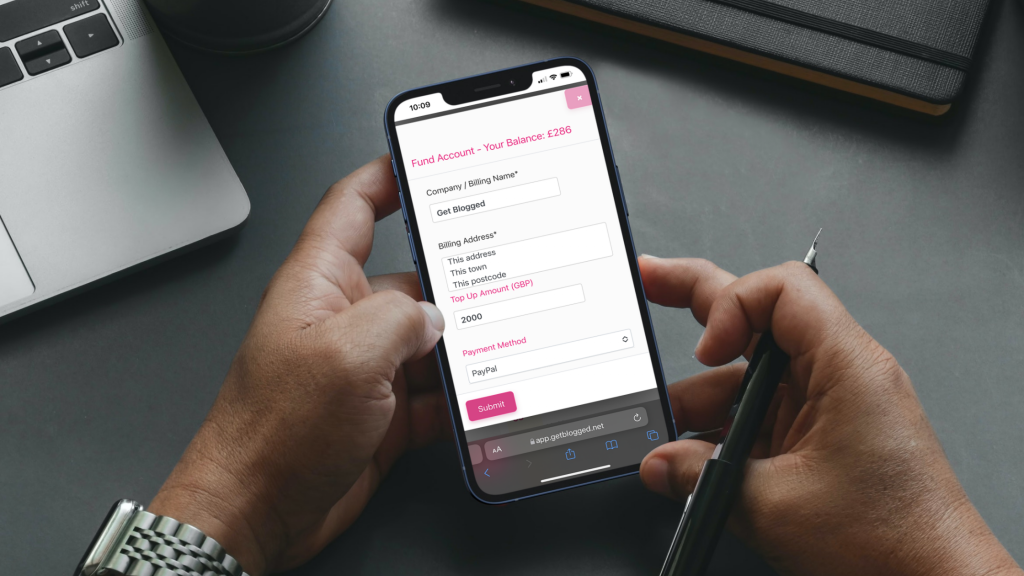 Historically, all payments into brand accounts were tied to hires. So, just like any other e-commerce shop, you added 5 bloggers to your basket and you would check out to hire them, paying for their services through PayPal.
Historically, it was not possible to fund a brand account outside of the hiring process. For instance, if you have £1000 to allocate to your blogger marketing campaign this month, you wouldn't have easily been able to add that to your account to use as you hire bloggers throughout the month.
But after this new update, that's all in the past because you can now fund your account for any amount you like! Hooray.
What are the features and benefits of 'Fund Account?'
Following feedback from a number of users of our blogger outreach platform, we understood the need for you to be able to fund your account for your whole campaign amount so that the funds are available as and when you want to hire.
Better control of your marketing investment
So, we've added the funding functionality that takes you through our checkout process separately. This is particularly useful if the hiring manager utilising the Get Blogged platform doesn't have easy or regular access to campaign funds. If you want to hire bloggers on an ad hoc basis, you will only need to access a payment card once to top up your account.
Easier to stick to your blogger marketing budget
Having a total campaign amount in your Get Blogged account is very useful when you have an exact budget to stick to. You can now easily keep track of what you've spent and how much budget you've got left.
Introducing invoicing and bank account transfers
Not only can you instantly fund your account with our quick and easy PayPal and credit / debit card process, we also added the functionality to create an invoice on the platform that you can settle with a bank account transfer.
This option is particularly useful for those who have no access to company cards or PayPal accounts.
How to use 'Fund Account?'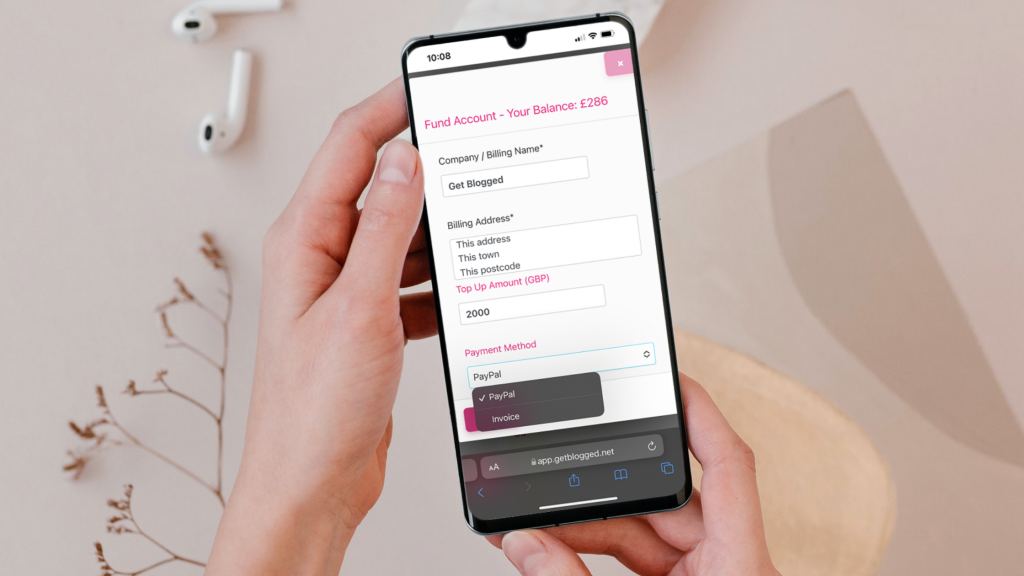 There are now four ways to hire bloggers for your paid blogging campaigns:
1. Hire bloggers one by one with PayPal
Some users of the Get Blogged blogger outreach platform like to hire bloggers one by one, checking out via PayPal each time. This method is still a valid way to hire bloggers, so you do you!
2. Hire multiple bloggers in one go with PayPal
This is currently the quickest way to hire bloggers. You can add as many bloggers to your campaign basket across multiple live or closed jobs as you like and then checkout via PayPal in one go.
3. Bank account funding via invoicing
This funding method is good for those who would like to fund their account via a bank account transfer. Simply press the 'Fund Account' button within your 'Manage Account' area and follow the steps to create an invoice on the platform. Once your invoice is settled, we get an alert and we manually update your account to reflect the funding amount. You can then hire bloggers using your funds in your account without having to go through the checkout process every time.
4. Fund your account with PayPal
This funding method is fast becoming a favourite. Simply press the 'Fund Account' button within your 'Manage Account' area and use PayPal to checkout. This is the quickest way to fund your account because this will automatically add your blogger marketing budget which you can instantly use for hiring bloggers.
We hope you find our platform update useful but if you have any further questions on how it works please contact us, we're always happy to help!