We've been busy perfecting some special platform updates, and now we can't wait to share them with you! Come join us as we bring Get Blogged's core functionality into its next chapter.
Table of Contents
New platform features and updates for brands
Are you looking to maximise your blogger marketing efforts? Check out the new and improved features on our state-of-the-art blogger outreach platform – perfect for helping brands make an impact today!
Hire confidently with our new Recommended Bloggers feature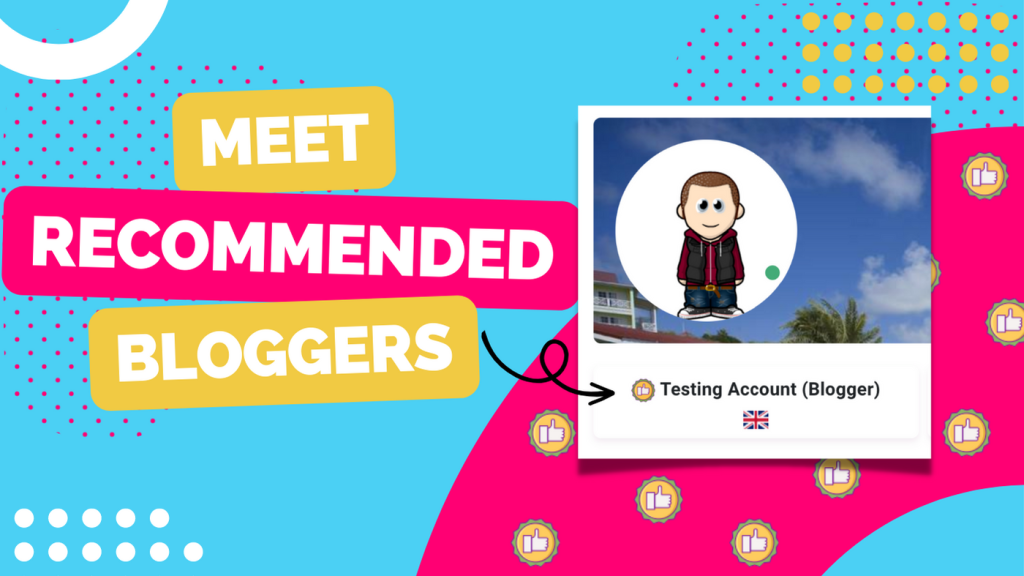 We want to give you the best chance at success when hiring a blogger for your campaign, that's why we've created badges of distinction so it'll be easy-peasy to spot someone who is truly top-notch! We are proud to help ensure that only experts get hired and equip you with all the tools and insight needed.
Meet recommended Bloggers here.
Introducing The Stream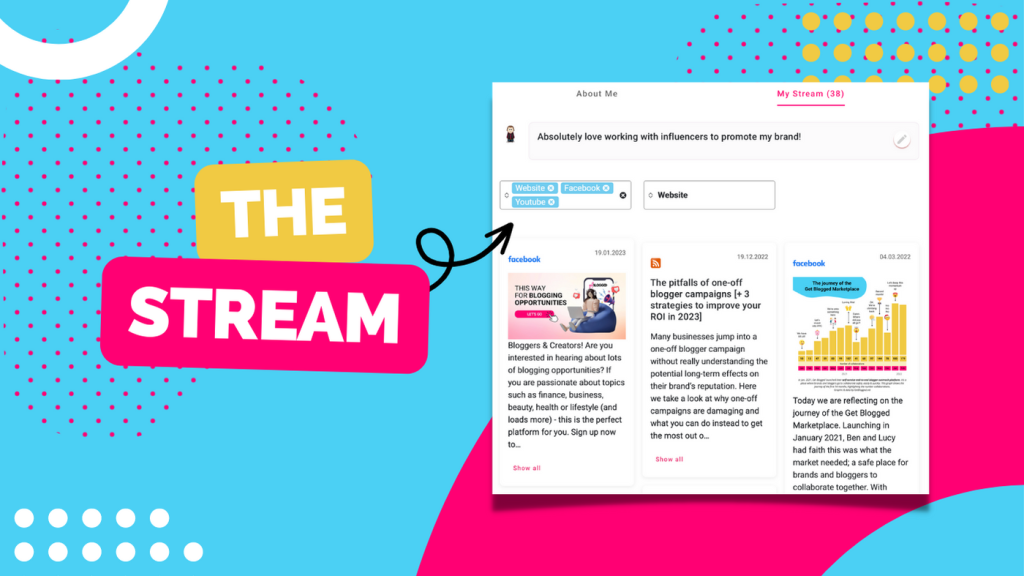 Let The Stream make your life easier! It brings together the creator's blog and social content into an organised, comprehensive feed – so you can spend less time researching if they are a fit with your brand. This functionality is also available on brand profiles, so you can give the best impression of your brand to our creators.
Invite bloggers to pitch on your campaigns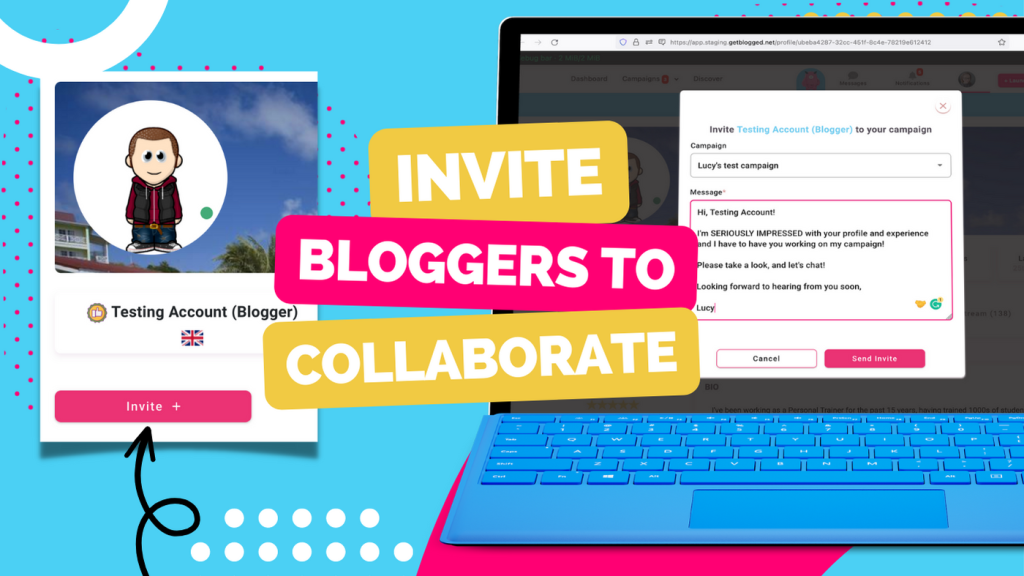 Say goodbye to waiting around for blogger pitches, and make partnerships happen faster! Take the initiative and invite those who have unique skills that fit your campaign needs. Hear their exclusive ideas, get inspired and make a difference together.
Tightly manage your budget with a clearer pricing display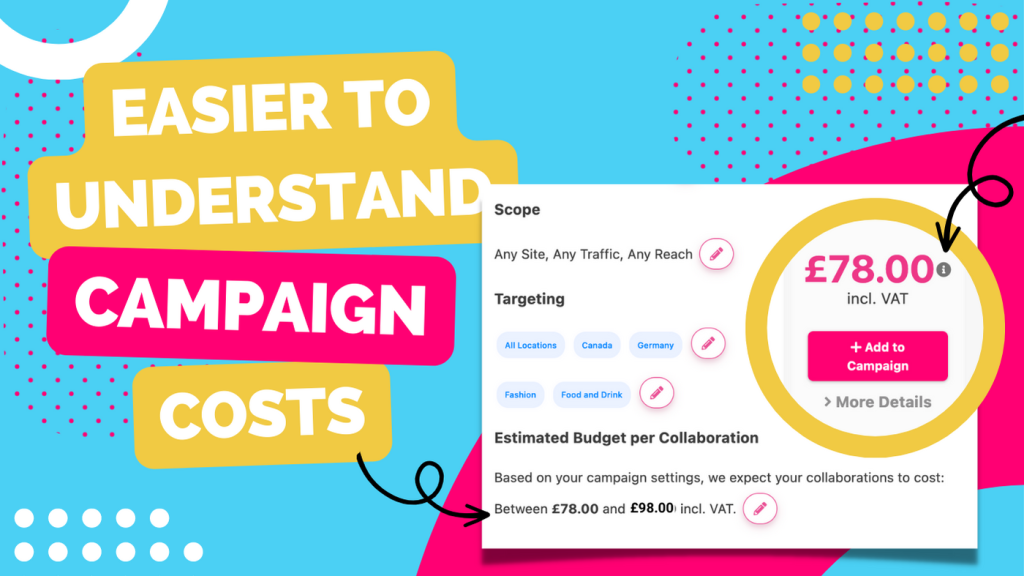 With our new and improved price display, you'll be more in the know about how much it will cost to collaborate with bloggers on Get Blogged. By clicking on the little [i] next to each pricing option, we make sure that everything is crystal-clear for your budgeting needs. We've always been open with fees and VAT added to total campaign costs – but now there's no confusion with our handy breakdowns! You can easily plan ahead knowing exactly what you need to pay when hiring creators through the Get Blogged platform.
Communicate easily with Chat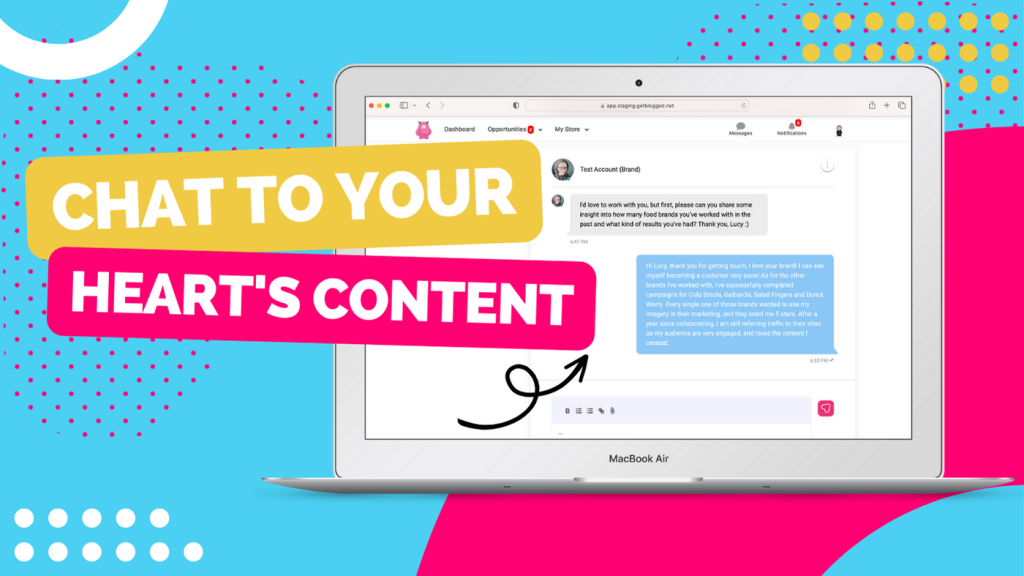 Looking to reach influential bloggers fast? We've got you covered! Our integrated messaging system makes it easier than ever before, plus we've squashed all the pesky bugs that previously caused messages to go missing. Now it's hassle-free and convenient – start connecting with ease today!
Call upon support whenever you need us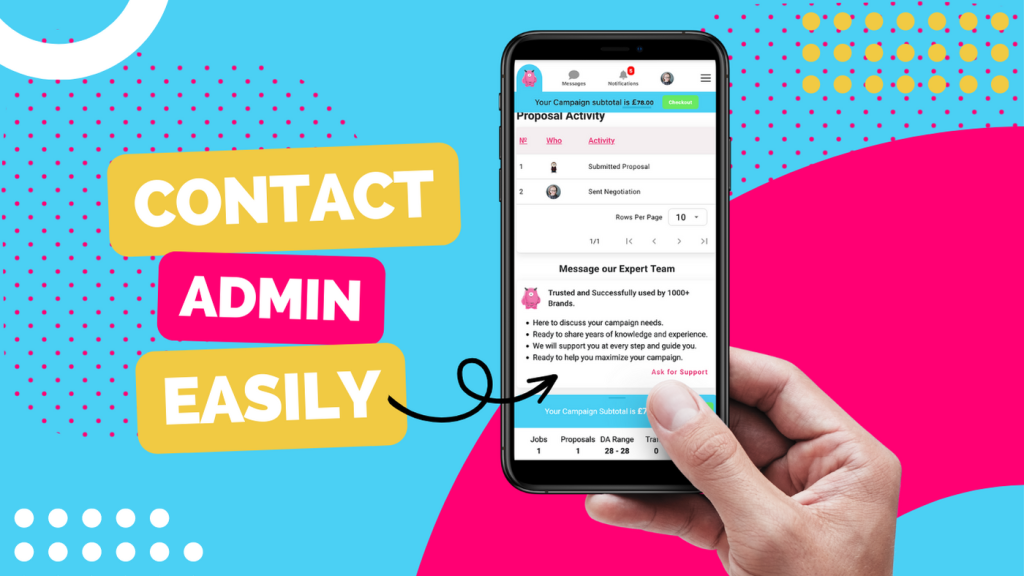 If you have a pressing enquiry whilst talking to a blogger or working on your campaign, our 'contact support' widget is available to provide speedy answers directly from us!
Negotiate costs with ease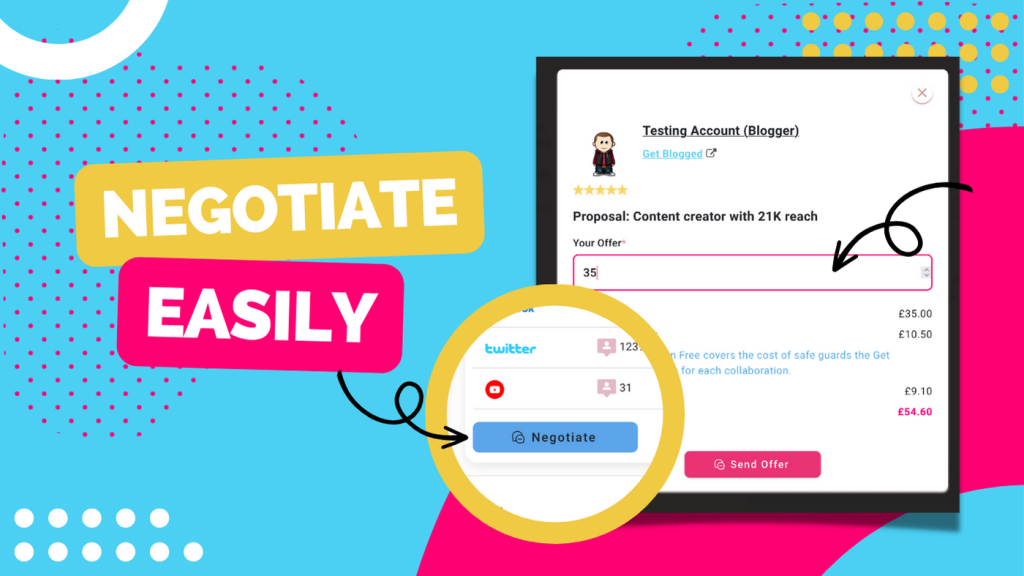 Now, you can use our negotiate feature to request a price that works for everyone. Here we help you strike up mutually-beneficial partnerships and collaborate productively on great content.
Make data-driven decisions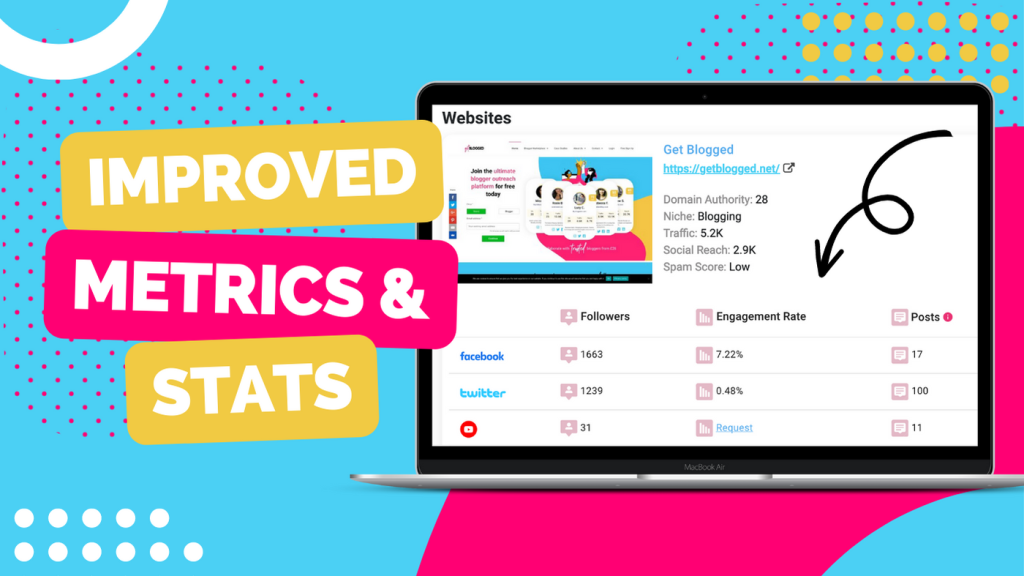 We've been hard at work, and now bloggers can join the party with our brand-new and updated social API, and blog traffic solutions. It's time for seamless integration of Google Analytics, Facebook, Instagram and YouTube!
With our brand-new insights, you can also track your creator's reach across social media networks and determine their engagement rate. Stay up to date on posts created in a 30-day timeframe – it's that easy!
Never lose track of the detail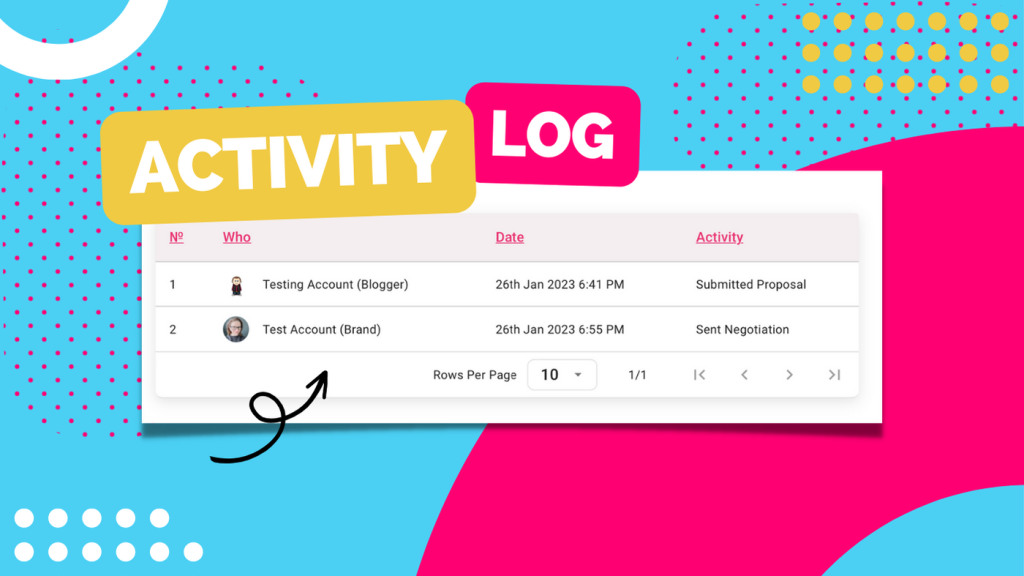 Keeping track of your campaigns has just become a whole lot simpler! You now have access to an easy-to-view activity log that provides valuable insights into each and every collaboration. No more guesswork – let the logs do their magic!
Track your campaign progress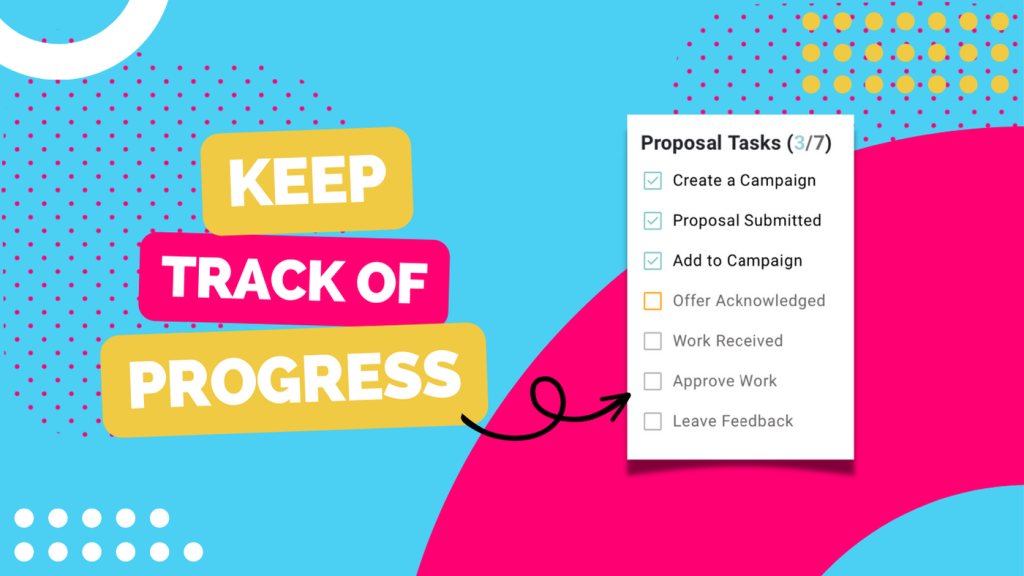 Banish campaign ambiguity with our brand-new task tracker! Now, monitoring every collaboration will be a breeze. Leave the guesswork aside and let this handy bit of functionality keep track of where you are – create a campaign today and see it in action!
Easily manage campaign deadlines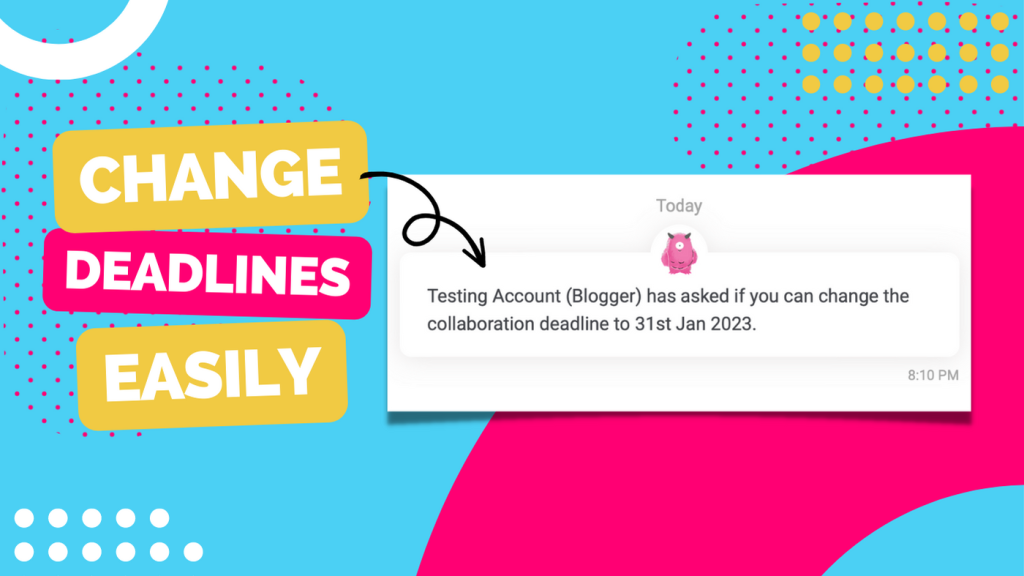 Having trouble meeting your campaign timelines? We've got you covered! You can now change timelines and accept or reject deadline extension requests. Keep up with the pace of your campaigns – keep them organised and running smoothly!
It's time to start your next blogger outreach campaign
For brands looking for the ultimate efficiency, check out the latest and greatest platform features that are sure to give your business an edge! With these exciting capabilities at your fingertips, it's never been easier or more enjoyable to reach new audiences with Get Blogged.