The clocks have now gone forward and despite the cold snap, we're experiencing more daylight and bracing ourselves for warmer weather. If you're looking for an excuse for a get-together, there are plenty of football events, plus a couple of brilliantly-situated bank holidays! We're wondering whether we can get away with wearing our beloved sweatshirts for this season's events; planning tea parties and street celebrations for the Queen's Platinum Jubilee. We've also got Gin Day and Father's Day to look forward to in June, and the ultimate excuse to eat strawberries and cream for breakfast, lunch and dinner; Wimbledon!
21 Popular Marketing Events For May & June
All year round, bloggers and influencers can help you launch new products and services, spread the word about your brand, help increase your sales, and reach engaged audiences in your niche that you would set you back ££££ in paid ad spend, not to mention the need to hire a seriously skilled PPC whiz.
But, even though you know you can work with content creators, do you find it tricky to resonate with bloggers and their niche audiences with your marketing campaigns?
Well, we're here to help. We have brainstormed 21 popular May and June events to spark some blogger marketing campaign planning creativity.
Bank Holiday Monday (2nd May)
Eid al-Fitr (2nd May)
Star Wars Day (4th May)
Cinco De Mayo (5th May)
FA Cup Final (14th May)
Eurovision Final (14th May)
UEFA Europa League final (18th May)
RHS Chelsea Flower Show begins (24th May)
UEFA Champions League Final (28th May)
Spring bank holiday (2nd June)
Platinum Jubilee Bank Holiday (3rd June)
Platinum Party at the Palace (4th June)
The Big Jubilee Lunch (5th June)
Queen's Official Birthday (11th June)
World Gin Day (12th June)
US Open begins (16th June)
Father's Day (19th June)
Summer Solstice (Longest Day) (21st June)
Glastonbury Festival starts (22nd June)
National Cream Tea Day (24th June)
Wimbledon starts (27th June)
Creative campaign examples
As you digest the list of 21 popular events, see which topics trigger some inspiration. We recommend picking a few key topics that match your brand well and then fleshing them out into more solid campaign ideas.
An example of that in practical terms might look like the following:
How to generate content around sports events
You sell sports shoes. You know the FA Cup Final is happening, followed by UEFA Europa League then Champions League; plenty of opportunities to jump on in May. Commission sports bloggers throughout the month to create content about the footy events whilst reviewing your sports shoes. To inspire some creative content that will get noticed, send bloggers some football goodies and challenge them to set up a friendly football match with their friends before the finals. One of the campaign deliverables could be to shoot a short video of the sports shoes in action during their match. This can be used on their social networks, and usually, bloggers will allow you to use it on yours too.
Build a fan base with fashion bloggers
Or, perhaps you'd like to commission fashion bloggers to promote your new range of summer partywear? How about sending bloggers a party pack along with a couple of samples of your range? Include some paper bunting and a few bits to use as props to host a tea party with a few friends? Not only would this type of campaign create some bright and natural shots of your new range, but it would create lots of dedicated brand advocates.
Spread the word with engaging and high-quality blog content
Maybe you don't offer products? You sell services and you need to get your website to page one of the search engines but you're currently stuck on page two under your competitors. Work with bloggers over May, June and beyond to create high-quality content on a range of relevant, timely topics with the aim of placing lots of natural links back to your homepage and key pages to attract some great referral traffic and link equity to get your search engine result leapfrogging those competitors.
There are a huge amount of creative campaign ideas that could be explored for your brand, the above examples are just three in a million! We're always on hand to offer our thoughts and advice, so please do reach out to us if you need any campaign ideas.
7 interesting ways to work with bloggers and influencers in May and June
Commission bloggers to help promote your spring sales on their blog and socials.
Give out special coupon codes to bloggers to share with their audiences for Father's Day.
Build an army of affiliates to help you advertise your brand, build engagement and increase your sales.
Work with football-loving bloggers and influencers to create engaging video content around the key footy events.
Commission fashion bloggers to wear your new ranges at their summer parties to help spread the word and create new fans.
Form a group of loyal brand ambassadors to repeatedly promote your new offerings around key awareness days.
Run a competition to create buzz around your products and services around the Queen's Jubilee.
Get your free marketing events calendar
We've created a free, year-long marketing events calendar that is updated yearly so it's ready for your campaign planning. Click here to get yours.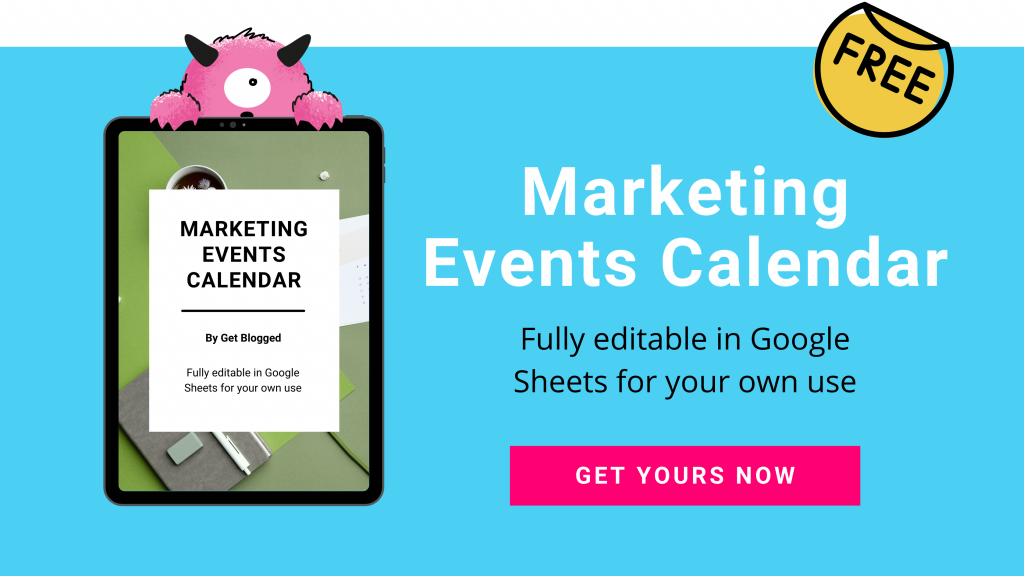 So there you have it, some fresh campaign topics to spark fresh ideas for content creator marketing campaigns in May and June. As we mentioned before, if you get a creativity block and need a fresh perspective, contact us and we'll be glad to help.
Post your blogging job for free today and get quality proposals from our blogging community within hours (usually minutes!)