So, you've got a product or service to promote, and you want bloggers to help. If you want to try to cut down the back and forth between you and bloggers to make your campaign more efficient, writing a detailed blogging job description is a must. But, we realise that sometimes this can be a bit tricky to remember to write everything in that blank input box! So here's a step-by-step guide to help with the overwhelm of posting a free blogging job on Get Blogged.
How to write blogging job descriptions that attract great bloggers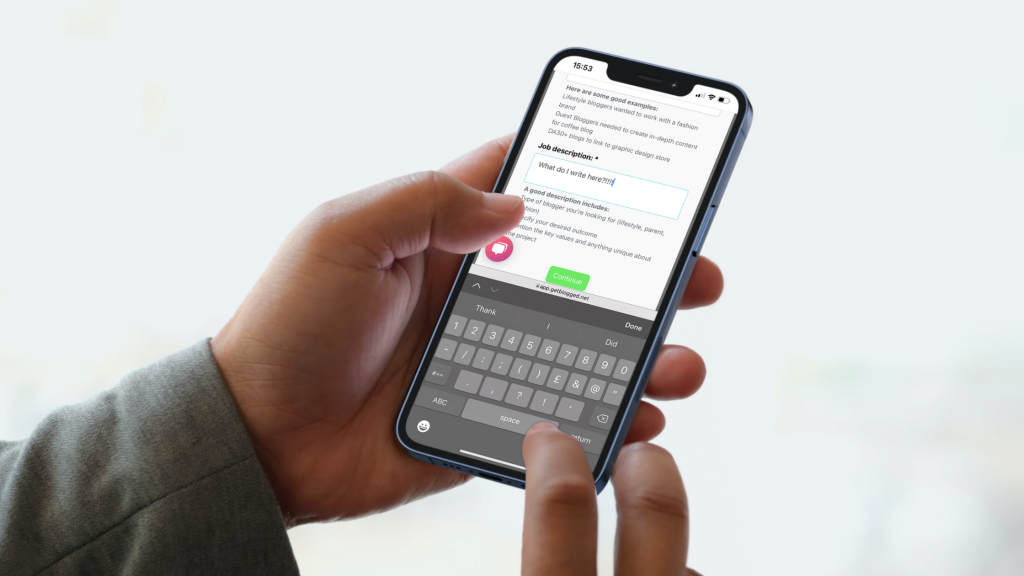 Ok, let's get started with the first important element to consider.
Step 1: Explain the main aim of your blogging job
Do you need to obtain a backlink for your site? Do you need bloggers to help you launch a new fashion range? Perhaps you are trying to grow your business and you need better brand awareness?
Whatever your aim, explain that first. This will really set the tone for the job description and give bloggers a good insight into what you need so they can pitch the right angle to you.
Here's an example of how that might look:
"I'm looking for bloggers to help me launch my range of sustainable beauty products in time for Earth Day."
Step 2: Detail the type of blogger you'd like to work with
During the job-building process, you will already have chosen the DA range, category and the location you'd like the blogger to reside, but It's always good to reiterate those elements in the job description field to make it extra clear that those factors are important to you.
So, you may want to add something like:
"I'd like to work with UK DA30+ tech bloggers with experience in cyber security."
Step 3: Now state which metrics are important to you
We've mentioned DA in step 2, but now have a think about any other metrics that are important to you to know before you hire a blogger.
On all Get Blogged blogger pitches, you have instant and free access to a host of metrics, including:
Google Analytics monthly unique page views
Moz Domain Authority
Moz Spam Score
Social reach
Some other common metrics are:
If there are other blog metrics that are important to you, then feel free to state that you wish to know those details within a bloggers pitch so that you can cut down the amount of back and forth.
You might like to write something like:
"Blogs must have over 1000 unique page views per month, and a Trust Flow of 20+." Short and to the point!
Step 4: Now explain exactly what you would like a blogger to do
Once you've laid down exactly why, what and who you'd like to work with, now it's time to get into the detail of what exactly you'd like a blogger to do for you.
This might be to share their thoughts on your new product with their audience on Facebook, or publish your 1000 word pre-written post on their blog, or insert your link into a pre-established post of theirs.
Whatever it is you need, a blogger will appreciate knowing exactly what is expected of them so that they can pitch and price accurately. You might like to write something like:
"I'd like to work with 10 bloggers to write about my new product [drop the link to said product here] within a 500-word post on their blog."
Or…
"I'm looking for a blogger who has past experience of care or nursing homes to share their thoughts on what to look for when choosing a good care home. I'd like one link to my homepage, and one link to this blog article placed naturally within the post."
Step 5: Finally, add any extra details you think might help the blogger
If you think it would help the blogger to understand and get into the role, extra detail like brand insight, links to specific imagery or past PR is always helpful. If there is an emotive reason you're running the campaign like you're partnering with a charity, or helping to spread the word about an important awareness day, then do add those details too.
To express that in your job description, you might like to write something such as:
"Earth Day is approaching on [date], and one of our core values as a fashion brand is sustainability. So, we're helping to raise awareness of sustainability in fashion with this campaign by giving tips on how to buy pre-loved clothing and accessories."
Here's what that all looks like in one blogging job description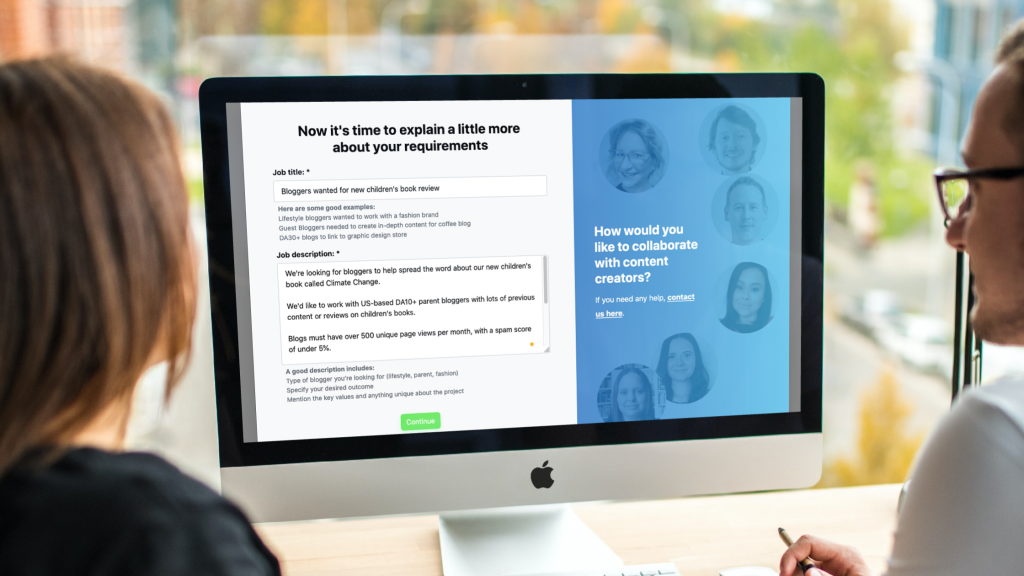 Let's bring what we've learned here into one blogging job description that will be sure to attract the right bloggers for you, and help to let them hit the ground running when you hire them!
Sample blogging job description:
We're looking for bloggers to help spread the word about our new children's book called [book title].
We'd like to work with US-based DA10+ parent bloggers with lots of previous content or reviews on children's books.
Blogs must have over 500 unique page views per month, with a spam score of under 5%.
If hired, we would like you and your children to watch this reading of the book on youtube [link to youtube video] and then express your honest thoughts in a 500-word blog review. We would love to see at least 2 images of your little-ones reactions' to watching the video in your post. Please share your thoughts on your Facebook page when your review is live, and tag us [your social handle] so we can re-share.
To help you understand more about why this book was written, and its target audience, please have a look here [link to more details.] We also have an interview with the Author here [link,] and the illustrator's portfolio can be viewed here [link.] Please feel free to use imagery you find on these pages to illustrate your post, but please credit the images correctly.
We're excited to receive your pitches and can't wait to work with you soon.
Ready to post a blogging job for free?
We've covered here the most important aspects to creating detailed blogging job descriptions for Get Blogged, the ultimate blogger outreach platform. Now it's time to post your blogging job for free! We hope this guide helps you, but feel free to contact us here at any time and we'll be happy to help you further.