Welcome to this month's Blogger of the Month.
We love our Blogger of the Month feature, it helps us go behind the scene with some amazing bloggers! This month is a good one – you're in for a great read and some really inspiring tips on how to grow your blog in 2022.
This month, we've caught up with the lovely Fiona of Savvy in Somerset. From saving on household bills and reducing food waste to finding the best deals on luxury holidays and getting passionate about slow fashion Savvy in Somerset encourages readers to think more positively when it comes to their finances.
We love Fiona's blog and we're excited to see what you think of this month's Blogger of the Month instalment…
Here's what Fiona had to say when we caught up with her…
Please tell us a bit about your blog…
I blog at www.savvyinsomerset.com where I cover a wide range of personal finance topics, including saving money, making money, frugal living and buying second-hand. I'm a total foodie so I have lots of cheap recipes and I love combining yellow stickers and supermarket discounts to make thrifty meals.
I am a passionate advocate of slow fashion so I've written lots of guides on buying second-hand clothes – it's one of those subjects I could write about all day long!
With the current cost of living crisis, many of my recent posts have been focusing on ways to reduce spending on energy bills and how using coupons and cashback apps can slash the cost of the weekly shop.
I also have a few smaller blogs which include a dedicated food blog and home interiors blog.
www.crumpetsandcocktails.com
www.hawkesathome.com
How long have you been blogging?
I started my first blog in June 2016, so it'll be six years this summer.
What inspired you to start your blog?
Before starting my blog, I'd spent a long time saving up for a house deposit and wedding, cutting back hugely on all of our expenses and outgoings. I wanted to share everything I had learned but also cover things I hadn't seen other bloggers writing about too.
I also love writing – I studied English and Drama and then went on to become a chef! I knew that working as a chef wouldn't be possible when I had children due to the unsociable hours so I started my blog with the intention of it becoming part of a more flexible freelance career.
Who are some of the coolest brands you've worked with?
Since I started my blog I've been lucky enough to work with some really great brands. Being from Somerset, one of the coolest ones for me was working with Thatchers Cider.
The collaboration involved sampling some sparkling apple wine and writing about how it would be perfect for a celebration. This was not long after my daughter was born so getting paid to drink wine in my sunny back garden seemed like the perfect way to welcome her into the world! https://savvyinsomerset.com/thatchers-family-reserve/
Another memorable one was working with Plusnet, writing about whether people from Somerset are as thrifty as people from Yorkshire, featuring a book on money-saving written by Footballer David Seaman. https://savvyinsomerset.com/save-it-like-safe-hands/
I also loved working with sweet brand Swizzels to create a budget Sweet Table for a wedding. https://savvyinsomerset.com/creating-a-budget-wedding-sweet-table/
What do you like about Get Blogged?
One of the things I like most about Get Blogged is there are opportunities for lots of different domain authorities and audience sizes, so even if you're fairly new to blogging then you can still make money through the platform.
Working as a freelancer, I do get the occasional non-payer so it's great to know that when I'm working through the Get Blogged platform, I'll always get paid for my work.
What are your tips for bloggers who want to make money with their side hustle?
Making money from your blog doesn't happen overnight and it may be quite a while before you start to earn on a regular basis.
Here are a few of my tips for those wanting to make money with their blog
Make sure your blog has a Work With Me page which lists all of the types of collaboration you offer and has clear contact information as well as examples of previous brand work. You can also add your blog email address to your sidebar or footer so it's easy for brands to find.
Update your blog regularly, as brands like to see recent content. If you're busy with work or on holiday you could ask other bloggers to write guest posts for you to cover that time.
Check the #BloggersWanted hashtag on Twitter to find blogging opportunities.
Don't be afraid to go in high when it comes to pricing – brands will negotiate down if they really want to work with you but you can't negotiate up once you've sent a price.
Log in to your Get Blogged account often as there are always new opportunities being added.
How do you feel about being chosen as Get Blogged's blogger of the month?
I was so pleased to be chosen as Get Blogged's blogger of the month. January and February can often feel like a bit of a slog so finding this out really cheered me up!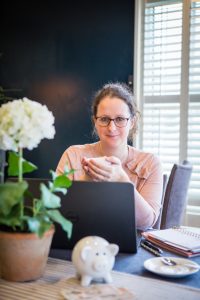 Share your links for everyone to follow you!!
Facebook – www.facebook.com/savvyinsomerset
Instagram – www.instagram.com/savvyinsomerset
Twitter – www.twitter.com/savvyinsomerset
Pinterest – www.pinterest.com/savvyinsomerset