Welcome to this month's Blogger of the Month.
We love our Blogger of the Month feature, it helps us go behind the scene with some amazing bloggers! This month is a good one – you're in for a great read and some really inspiring tips on how to grow your blog in 2022.
This month, we've caught up with the lovely Sophie of Starting Today Blog. Sophie is a lifestyle blogger based in Newcastle-upon-tyne, England. She is passionate about photography, philosophy and poetry, wellness and mental health.
We love Sophie's blog and we're excited to see what you think of this month's Blogger of the Month instalment…
Here's what Sophie had to say when we caught up with her…
Please tell us a bit about your blog…
I share poetry and photography with philosophical thoughts on art and creativity. I share my inspirations and ambitions combined with my lifestyle! When I started my blog I wanted to share my art with people. It was during the pandemic so I thought why not?
I started to develop my blog as a way to pass the time. Then, I was contacted by a few brands asking me to work with them and I started thinking 'hey, I could turn this into something.' A while later I realised that I love blogging so much that I wanted to share my journey with blogging- to inspire others to do the same! My blog has very much been through a creative process and I love that.
How long have you been blogging?
I've been blogging for 14 months now, although, I've had a few blogs over the years. I've always loved writing and photography so blogging just kind of makes sense to me.
What inspired you to start your blog?
Mainly, I started my blog because I wanted to focus on my talents as a writer. I'd spent years working in all sorts of jobs- just to pay my bills, all the while wishing I could write instead.
I also wanted to do something for myself for a change. My daughter had just turned 1 and there was a pandemic, which meant I was stuck at home, so I saw an opportunity and I went for it!
I've actually just started an Instagram account that focuses on why I started my blog- I share my blogging journey! You can follow it here: https://www.instagram.com/startingtodayblog/
Who are some of the coolest brands you've worked with?
I have worked with a few brands now. Each brand is different and I like that. The coolest ones are the ones that give you creative freedom over creating content for them. I love being sent packaging and products to photograph.
My favourite brands are Kannakan (CBD products) Daisy (jewellery) and AuraPrint were all really cool (I loved my free business cards, they're awesome).
What do you like about Get Blogged?
Get Blogged is great because it's really convenient. It's a fab place to apply for blog jobs and it's a reliable source for paid work. It's also great for practising how to pitch to brands and meeting new brands who want to work with you!
The staff are really friendly and happy to help if you need it. They also run cool competitions and challenges. Working at home can feel a bit isolating and Get Blogged have given me a network and a chance to meet other bloggers. I guess that's why I love being an affiliate for them!
What are your tips for bloggers who want to make money with their side hustle?
First of all, follow my new Instagram account and Facebook page. I share tips on there all the time. Secondly, focus on what you're passionate about and the money will follow.
One of the biggest lessons I learned was to concentrate on a niche- instead of writing about absolutely everything! This is when my side hustle became profitable.
How do you feel about being chosen as Get Blogged's blogger of the month?
I am absolutely delighted to be picked as blogger of the month. I've worked really hard on my blog so it's nice to receive an achievement for it.
Share your links for everyone to follow you!!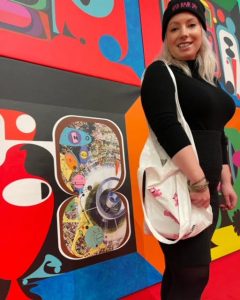 Follow my Photography on Instagram
Follow my Blogging journey on Instagram
Follow my Facebook page for business inspiration
Follow my Twitter page for blog posts and more