How To Make Money Blogging
So you've just started blogging, or you've had a blog for years and have decided that you want to make this your full–time gig to make money blogging?
You might be thinking 'how do I go about doing that?' and 'how long is it going to take me to make a full-time salary blogging?'
We're going to answer all of those questions for you in our how to make money blogging guide.
We'll share everything you need to know to make your first £1,000.
The amazing thing about blogging is that it creates an abundance of freedom.
You don't have to be chained to a desk from 9 until 5; you can work from absolutely anywhere.
Whether you want that to be from the comfort of your sofa at home or halfway across the world on a beach, there are so many different ways to make money blogging.
The opportunities are endless, you can make as little or as much money as you want from monetising your blog.
Before we jump into how to make money blogging, we want to share a few truths when it comes to making blogging your career.
1. Writing Doesn't Have To Be Your Forte
Think you have to be an award-winning journalist for your blog to be interesting?
Nope.
An audience is attracted to the blogger, not whether they're going to win a literary prize.
People who are going to read your blog are everyday people and they're going to be drawn in by your content and what you have to say.
If you've got their attention and they're engaged that's all you need.
You don't need to sweat about whether you've used a word one too many times. You can be real and put that thesaurus down.
2. You Don't Need To Be An Expert
Similarly, you don't need to have a PhD in what you want to talk about to make it meaningful and engaging.
If you're interested in the topic you want to write about and you're constantly learning about it, let your readers learn with you!
You don't always have to write about what you know.
3. It Can Take Some Time
Remain realistic about your blogging journey.
There won't be one morning where you wake up and you've started making thousands per month from your blog.
Bloggers who seemingly scale up their earnings quite quickly usually have had some sort of advantage.
Whether that's a lot more time, money to invest or an incredibly handy contact.
If you haven't got any of those up your sleeves, remember that it'll take some time and don't get disheartened if things aren't picking up immediately.
Pin this for later…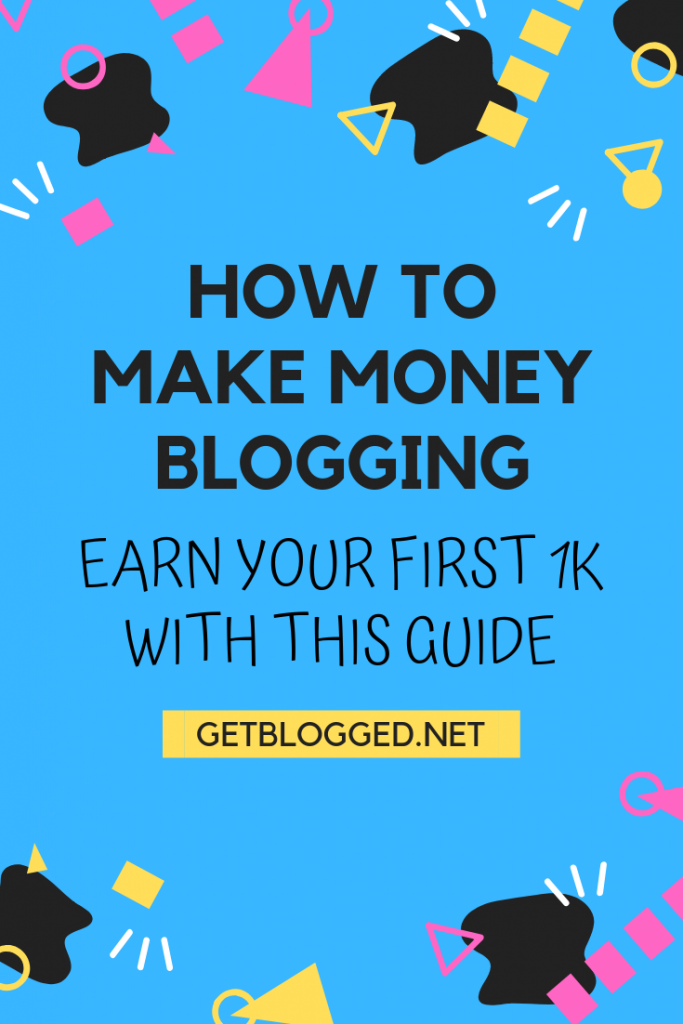 How To Monetise Your Blog
Some revenue streams are easier and faster to get started up than others.
As we know, making money from your blog can take time, so don't ignore the avenues that may take longer.
Just because they're more time consuming, doesn't mean they're any less effective.
It's also smart to have a back up in place.
Relying on one source of income isn't the best idea. Something might happen, and you've lost your income, what would you do?
Here are the 5 top ways to start making money blogging.
1. Monetise Your Traffic By Advertising Brands
When it comes to talking about making money blogging this is probably the first thing that comes to mind.
So what types of advertising are there?
Display Ads
Display ads are very popular and a great way to passively earn some money on your blog.
They might not be the most lucrative, but as a result they require less effort.
If you've heard of Google AdSense you already know what display ads are.
They appear on the sides, tops or bottoms of web pages and advertise all of those things that you'd just been looking at on Amazon.
To start making money with PPC advertising on your blog you need quite a bit of traffic to get going. So this might not be the right avenue for beginner bloggers.
Sponsored Content
In this blogging climate you see sponsored content everywhere.
It's a very popular revenue stream for bloggers because many companies rely on influencer marketing as part of their wider marketing strategy.
There are so many opportunities to take advantage of on your blog and social media.
Again, the larger your audience, the bigger the pay off.
Companies still do look for nano bloggers, so the opportunities are out there for smaller blogs.
However, the smaller your traffic and blog stats, the less sponsored opportunities to be had.
2. Earn A Passive Income Using Affiliate Marketing
Affiliate marketing is where you earn commission on promoting a company's product or service.
The easiest way to take advantage of affiliate marketing? Join an affiliate network.
There are so many networks out there that are perfect for every blogging niche as well as general networks.
If you're a fashion blogger you may have heard of Reward Style.
Every time someone clicks on your unique link that you generated for that product or service and makes a purchase you earn a percentage.
Each network sets a specific commission range for every brand they work with.
Sometimes you can work directly with a brand to work as an affiliate.
Only some brands have such a system set up to work with them directly.
Working directly with a brand on an affiliate project can lead to higher commissions though as a result of networks not taking their cut.
3. Offer Useful Digital Products & Turn Your Expertise Into Cash
This is where the power of the eBook comes in.
So many bloggers are writing, producing and selling eBooks.
Whether that's an eBook passing on their expert blogging knowledge, an extended and in-depth version of their blog or something like a recipe book.
Many bloggers are also developing their own online courses to actively pass on all of the blogging knowledge they've gained during their years blogging.
4. Make Money Blogging By Offering Your Skills
How many bloggers have you seen advertise that they also dabble in digital marketing? I'm sure your answer is a lot.
There are a lot of bloggers that also freelance on the side and use their blog as a platform for their services and to get clients.
As a blogger you learn so much more than just how to write and publish a blog.
You're learning everything from SEO to social media, so why not offer those newly found skills to those who haven't mastered them yet like you have?
Taking on digital marketing clients is a great way to start getting some stable income while you're working on your other revenue streams that may not have picked up yet.
You still have the flexibility and the time for everything else but you're earning the money that you need, as well as building contacts.
4. Start Earning Instantly With Get Blogged

Does your blog have a domain authority of 5 upwards?
If so, the great news is, you're already eligible to apply for paid blogging opportunities on Get Blogged!
If you're new to Get Blogged, it's a brilliant way to start monetising your blog in quiet periods, or if you're just starting out.
It's also great for more established bloggers with higher paid blogging opportunities suitable for blogs with a DA of 40+.
Since Get Blogged launched, we have paid bloggers over £76k for collaborations with brands. Do you want your share of that?
If you are looking for ways to work with brands, Get Blogged makes it so easy for bloggers.
You can view opportunities using our web portal, and we have hundreds of fun articles for bloggers to write every month.
With opportunities for blogger niches such as travel, business, relationships, food, fashion and lifestyle, there really is something to suit any blogger.
If you're just starting out and your domain authority is currently under 5, fear not, we have a brilliant post that tells you loads of inside secrets of how to improve your DA score.
How To Earn Money Blogging?

Sign Up Now To Start Working With Brands. It really IS that easy.
This is everything you need to know to get you on the road to making your first £1,000 from your blog!
There is no time like the present to get started and get the ball rolling.
The more time you spend on your blog now and generating your income, the less time you'll have the spend on it later, when you'll truly thank yourself.
Pin this for later…