Is it just us, or is this year going past really quickly? It feels like it was only yesterday that we were planning for Easter and now we're working towards the excitement of summer. The warmer weather brings more fantastic sporting events, fun and thought-provoking awareness days as well as the last bank holiday of the year. Not forgetting one of the biggest events of the year for bloggers, Christmas in July!
24 Popular Marketing Events For July & August
There are many benefits of undertaking collaborations with bloggers including a potential increase in traffic and sales, the opportunity to distribute key messaging and promote product launches, increasing visibility across social media channels, cultivating positive connections with influencers and building new links to your website.
A carefully planned blogger outreach strategy can help you to improve your search engine rankings, increase awareness of your brand, and ultimately increase your sales. We know that when you're under pressure to put together an engaging blogger outreach plan it can be hard to come up with ideas for each month.
Well, we're here to help. We have brainstormed 24 exciting July & August events to spark some blogger marketing campaign planning creativity.
Christmas in July
National Picnic Month
F1 British Grand Prix (1st – 3rd July)
Tour de France Start (1st July)
Clean Beaches Week (1st July – 6th July)
USA Independence Day (4th July)
National BBQ Week (5th July – 17th July)
World Chocolate Day (7th July)
Men's golf major (10th July – 17th July)
Bastille Day (14th July)
Social Media Giving Day (15th July)
Black Leaders Awareness Day (18th July)
Love Parks Week (23rd July – 31st July)
Commonwealth Games (28th July – 8th August)
World Friendship Day (30th July)
Playday (4th August)
Women's golf major (4th August – 7th August)
English Premier League First Round (6th August)
Afternoon Tea Week (9th August – 14th August)
Victory in Japan Day (15th August)
World Humanitarian Day (19th August)
World Photo Day (19th August)
US Open (29th August – 11th September)
Summer Bank Holiday (31st August)
Christmas in July
You might think that celebrating Christmas in the middle of summer would be madness, but this trend has quickly become a major event in the marketing calendar and bloggers love to get involved! Christmas in July has become an international phenomenon. Brick-and-mortar brands and e-commerce sellers have started to cash in. It's the perfect time to give previews of your upcoming products and associate your brand with the fun and generosity of Christmas.
Festivities can be built around your brand and products and can be full-on in-person experiences such as a Press Day full of festive activities celebrating your top products being released for December, running an online giveaway of a stocking full of goodies or something more personal like choosing individual bloggers to collaborate on something special. Whatever you choose be sure to keep your promotions and messaging simple and impactful.
Christmas in July works particularly well if you are involved in the toy, food and drink, gifts or experiences industries, but never fear, with a bit of planning many other sectors can benefit.
We're always on hand to offer our thoughts and advice, so please do reach out to us if you need any campaign ideas.
Engaging ways to collaborate with bloggers and influencers in July and August
Competitions or Giveaways
A quick and easy option to collaborate with bloggers this summer is to recruit some of the best in your niche to host a giveaway or competition on their blog for which you supply the terms and prize. The hosts often include links to your site and share the competition on their social media to boost participation.
For an extra boost incorporate one of the events above, for example, give away a hamper for National Picnic Month or use a sports theme for the Commonwealth Games. Services like Rafflecopter make it easy to get you started.
Products Reviews
Product reviews are a great way to get your products or services out there in front of potential customers. Source bloggers in your chosen niche or industry and give them the opportunity to try them for free. Brief the participants to produce honest, engaging reviews detailing their opinions and experiences on their blog, which can include links, and shares on social media showcasing it to their audience.
Time the publication of these reviews with one of the relevant events above to benefit from any seasonal boost in online searches and social media buzz for maximum impact.
Events
Summer is the perfect time to throw an event for Bloggers. Why not hold a picnic (National Picnic Month)? Host an afternoon tea (Afternoon Tea Week), hold a blogger's sports day (Commonwealth Games) or run a photo walk for World Photo Day? Invite bloggers to be educated in relevant subjects at in-person (or virtual) events for example a talk or workshop. Allow the attendees to get up close with your products or services and encourage them to ask questions.
Events work best when there is a relevant activity, refreshments, goodie bags and follow up information packs including information about your brand and professional photography. A good event will produce lots of excellent content (photos, video, interviews) which can be added to the information pack and published after the event across your marketing channels.
Content Partnerships
We know that bloggers put a lot of effort into producing quality content for the brands on our platform, and the most common collaboration we see happening here is content partnerships. Source bloggers in your niche and brief them to create unique and engaging content for their readers focusing on your brand, product or a relevant topic.
It's important that you provide the blogger with a detailed brief so they understand exactly the topic you would like them to cover. Combining the brief with an awareness day or holiday can help inspire the blogger. If you are in the food/ drinks industry why not ask food bloggers to publish their favourite BBQ recipe (National BBQ Week) including your product? Parenting bloggers are excellent when it comes to products for children, why not invite them to hold a Playday (4th August) celebration and share their experience on their blog? If your brand focuses on sports the brief could ask sports bloggers to give their thoughts on their favourite competitors in the Commonwealth Games.
The bloggers can become key advocates by including key messaging in their content, for example, brand mission statements and unique selling points alongside links to your website to attract some great referral traffic and link equity to get your search engine rankings moving.
Gifted Experiences
Our last recommendation is to engage Bloggers by inviting them to take part in relevant, fun activities which they then write about on their blog, which can include links to your website, and share on their social channels. The experiences will depend on your products or services but the best experiences relate back to your brand or niche as well as a seasonal activity.
With both the women's and men's golf majors kicking off in summer why not gift tickets to crazy golf to your favourite bloggers? This would work particularly well if your brand focuses on parenting, lifestyle or sports. You could recruit a selection of bloggers to take part in a beach clean up day (Clean Beaches Week) and gift tickets to a Sea Life Centre as a thank you. If you work in the automotive industry take advantage of the F1 British Grand Prix and offer bloggers a day go-carting or quad biking to get them excited about your business.
Get your free marketing events calendar
We've created a free, year-long marketing events calendar that is updated yearly so it's ready for your campaign planning. Click here to get yours.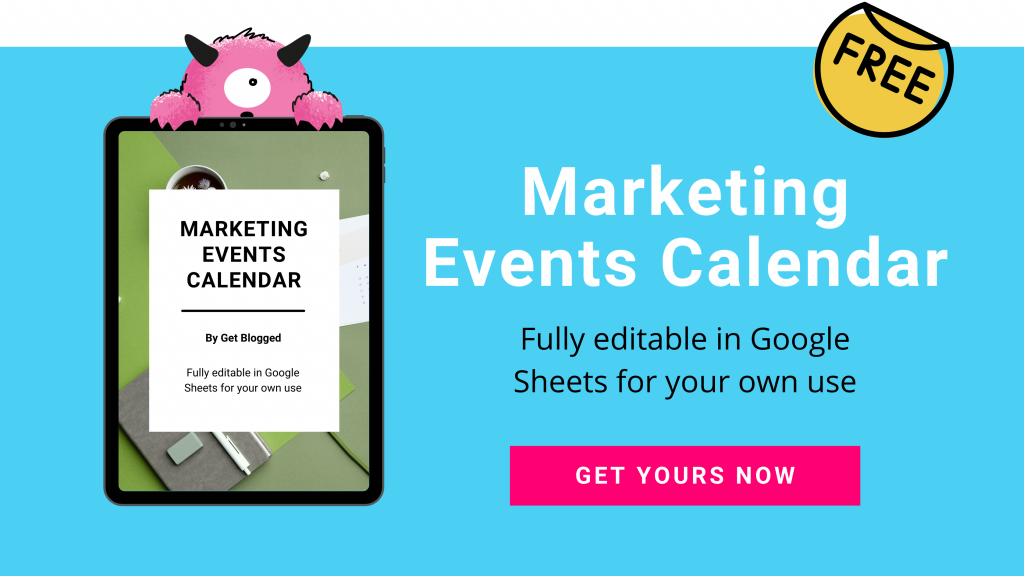 So there you have it, some fresh campaign topics to spark fresh ideas for content creator marketing campaigns in July and August. As we mentioned before, if you get a creativity block and need a fresh perspective, contact us and we'll be glad to help.
Post your blogging job for free today and get quality proposals from our blogging community within hours (usually minutes!)