Welcome to Get Blogged! If you've come to this article it's probably because you have just signed up to the platform or are considering signing up and are looking around to see what exactly we can offer you. Well, pull up a chair because in this guide we will walk you through how to use our outreach platform from start to finish. You'll be an expert and building successful campaigns in no time.
What is the Get Blogged Marketplace?
The Get Blogged Marketplace is the ultimate, self-service blogger outreach platform. It allows you to connect with bloggers to grow your business with collaborations such as content placements, product reviews, social media promotion and link building.
You can create a listing in the Marketplace for free! Simply join our platform (also free) and create a job on the Marketplace to connect with thousands of authentic and trustworthy bloggers.
You can post assignments in our Marketplace where our bloggers have the opportunity to pitch to work with you. When your listing is live and your proposals have started coming in, you'll be able to negotiate the fees set by our bloggers to ensure that you get the best ROI for your campaigns.
There are no hidden fees when using the Marketplace – we pride ourselves on our transparency and in gaining your trust. Sign in to start building your campaign!
Table of Contents
Who Does The Marketplace Help?
We aim to help brands across all different sectors and verticals to expand their reach and brand awareness, convert new customers, and grow their online presence with a community of hand-picked influencers. We believe that influencer marketing is the future, and whether you are a freelance SEO, an agency or on an in-house digital team we're making it simple, one campaign at a time!
If you're a freelancer then we feel your pain – we started Get Blogged because we found handling multiple spreadsheets and working with a cluttered inbox to be overwhelming. Our platform is a one-stop shop sign up now to run successful campaigns without all the administrative hassle!
We at Get Blogged know from personal experience that when you work at an agency there are a number of hurdles that may need to be overcome in order to ensure your clients receive top-notch link building as part of their overall strategy. Learn why we're a great fit for agencies here.
As an in-house team, we know you may face similar difficulties to agencies such as lack of time, the lack of a role that focuses solely on link building and possibly patchy past outsourcing experiences. Get Blogged can help you reduce the time pressures whilst offering expert support as needed.
With years of experience working closely with fast-growing, gutsy, and determined professionals, we know first-hand what your pains often look like – and more importantly, we know the solutions.
If you're looking for a solution that simplifies your blogger outreach and influencer marketing campaigns but still gives you full control, then the Get Blogged Marketplace is for you.
If you're looking for someone to outsource your blogger outreach campaigns to because you don't have time to run them, then The Marketplace is not the right solution for you.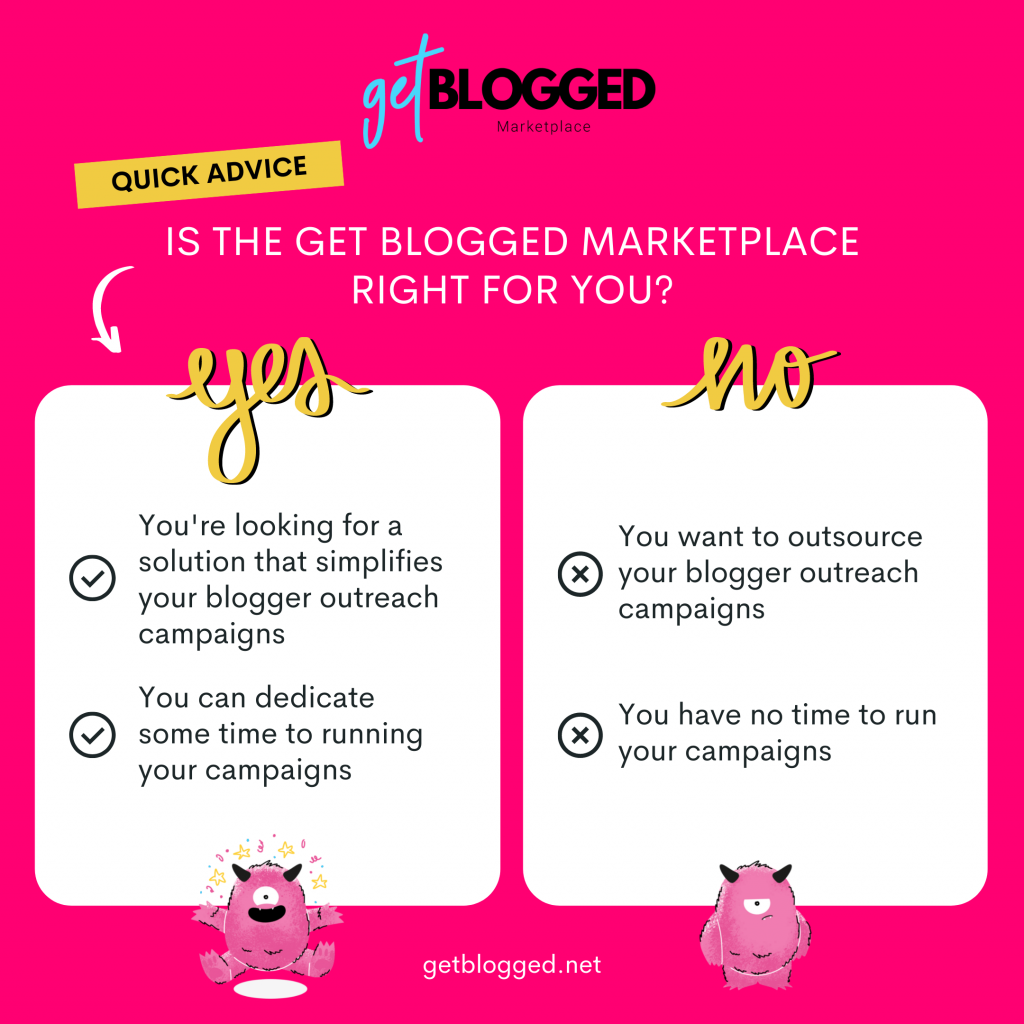 A simple guide on how to use the Get Blogged Marketplace
The Marketplace is simple to use! In a few quick steps, you can create your campaign, connect with our amazing bloggers, receive top-quality pitches and make multiple hires.
Here's a quick guide:
Join Get Blogged for free via our sign up form; we'll ask you for your contact details and to create a password. We don't need your payment details!
Add to your profile – be sure to add your website and a quick bio to let our bloggers know more about your brand
Post a job for FREE
Watch the proposals from our bloggers roll in
Read through your proposals & pick your ideal bloggers to work with
Add your favourite bloggers to your campaign
When you've checked that all of your bloggers are in your basket, simply press "checkout"
Our handy checkout will show you the amount you need to add to your account to hire your bloggers
Pay the amount via Paypal (or you can choose to fund your account and use your account funds)
Once your account has been paid, our bloggers will be notified that they've officially been hired and they'll begin the agreed-upon work
Now it's time to sit back and watch your content roll in. We give our bloggers a maximum of 4 days to complete the assignment. If they have any questions or need further information, they may ask you questions using our internal messaging system. You'll get notifications via email every time someone new is in your inbox
Bloggers will submit their work by the deadline and you'll be able to see what's been created, approve or request edits.
Then, see how your online presence, brand awareness and customer base skyrockets!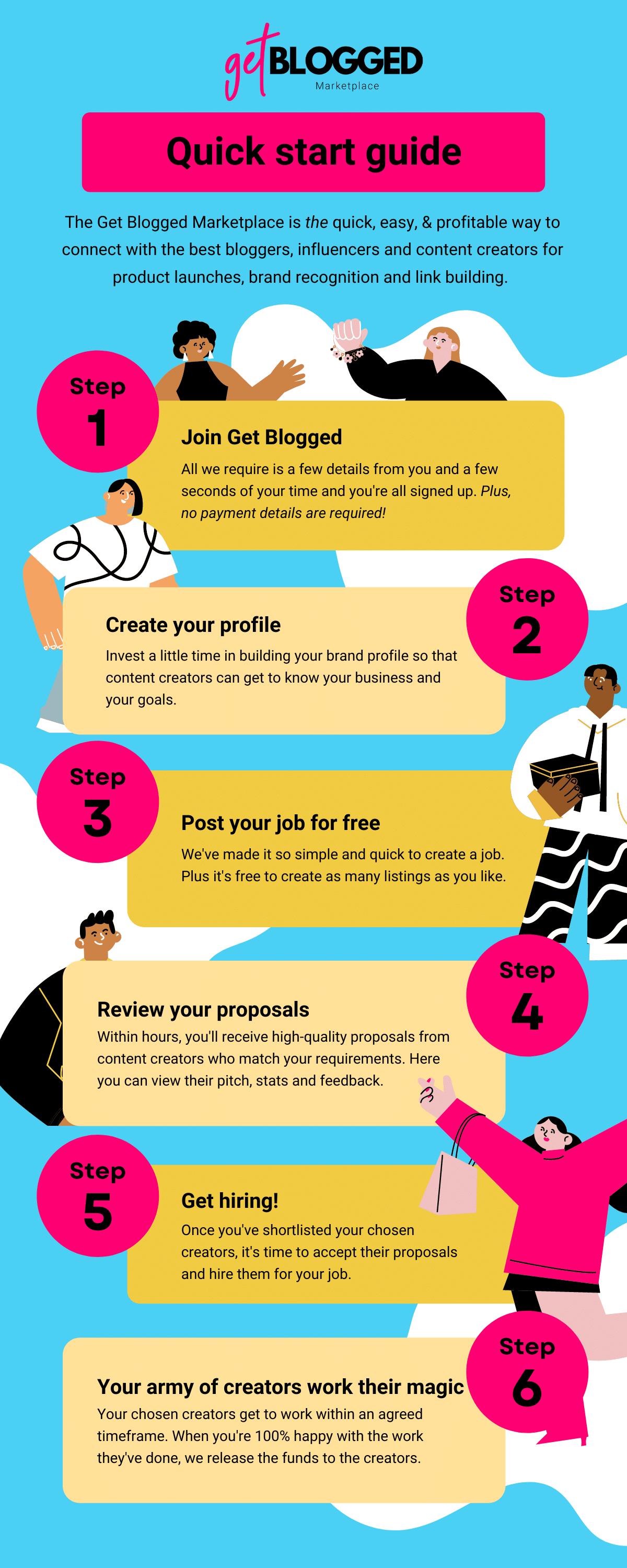 Marketplace Glossary
We realise it can be a little overwhelming when getting to grips with a life-changing tool 😉 So, here is a quick run-down of the main terminology in the Get Blogged Marketplace.
What is a Marketplace job?
Think of The Get Blogged Marketplace as a recruitment tool. You post a job that you need filling. You need 20 bloggers for your product launch campaign, The Marketplace is where you find them.
You need just one perfect blogger for your job? The Marketplace is where you find them! We have made it super simple to post a job, and we give you all the support you need to get it filled.
What is a Marketplace Proposal?
A Proposal is what you receive from our Bloggers and Influencers when you have posted your Job. Typically, you'll receive an influx of Proposals within just a few hours after your Job is approved. Proposals contain a personalised pitch, a fee, and all the stats you need to make an informed and confident decision on who to hire.
What is a URL?
A URL is another name for the web address or domain name of a website.
What is domain authority?
You can find out all about domain authority here.
What is traffic and how is it measured?
We have recently given all bloggers the chance to connect their Google Analytics accounts to their Get Blogged profiles. Traffic can be important to blogger marketing campaigns for a number of reasons, and we explain more here.
What is a Marketplace Hire?
A hire is when you are impressed by a proposal (explained above) and you decide you want to work with them. When you hire a proposal, you checkout like any other online shop, but the difference here is that you are then expected to collaborate with those you hire so that the outcome hits your expectations.
What is a payout?
A payout is a fee that you have agreed with the blogger or influencer. Their payout happens once you are happy with the work they have provided, and not a moment before.
What will my Job cost?
If and when you decide to go ahead and hire one or more of our bloggers, you'll pay 30% per hire plus VAT. 
For example, if you want to hire a blogger whose fee is £30, you'll pay £39 plus VAT.
No ties, no hidden fees, no complicated contracts, and no minimum spending.
Deciding which bloggers to work with
Here at Get Blogged, we believe that creating relevant and high-quality content for your brand is the key to success.
When creating your listing with our easy-to-use filters, you'll be able to pick and choose your ideal influencer. Filters include metrics, location and niche – for example, lifestyle, LGBTQ+, beauty, parenting, fashion, finance, and more.
This bespoke approach sets us apart from our competitors and helps make our existing brands successful with every listing!
We know that it can be tough to find the ideal niche for your brand – but don't sweat it, we've literally seen it all! If you need assistance in picking the ideal category for your listing, our team is on hand to help you.
Deciding how much to pay bloggers
You will find that each blogger will have their own fee structure depending on their blog and social metrics as well as other factors such as niche, experience, their standing in the blogosphere and what deliverables you are looking for.
We believe that bloggers should be properly recompensed for their time and effort, so recommend fair payment in return for work.
The minimum ranges below are based on one main metric, domain authority, and we usually suggest the following ranges to brands using our blogger outreach platform for link insertions and guest post campaigns:
Any site: £20+
DA10+: £20+
DA20+: £30+
DA30+: £40+
DA40+: £70+
DA50+: £90+
And these minimum prices are for sponsored posts, where you ask bloggers to write about your product or service, or include your links in a natural and authentic piece that would resonate with their audience:
Any site: £45+
DA10+: £45+
DA20+: £55+
DA30+: £65+
DA40+: £95+
DA50+: £115+
You may wish to offer more or less depending on the complexity of the campaign. For example, if you wish the blogger to write a post, style and take unique photographs and share the post and photos on their social media you may wish to consider offering a competitive rate for this package of work.
How Payment Works
There are a number of ways that payments are processed on the Get Blogged platform, simply choose whichever option best works for you and your finance team:
1. Hire bloggers one by one with PayPal
Some users of the Get Blogged blogger outreach platform like to hire bloggers one by one, checking out via PayPal each time. This method is still a valid way to hire bloggers, so you do you!
2. Hire multiple bloggers in one go with PayPal
This is currently the quickest way to hire bloggers. You can add as many bloggers to your campaign basket across multiple live or closed jobs as you like and then checkout via PayPal in one go.
3. Bank account funding via invoicing
This funding method is good for those who would like to fund their account via a bank account transfer. Simply press the 'Fund Account' button within your 'Manage Account' area and follow the steps to create an invoice on the platform. Once your invoice is settled, we get an alert and we manually update your account to reflect the funding amount. You can then hire bloggers using the funds in your account without having to go through the checkout process every time.
4. Fund your account with PayPal
This funding method is fast becoming a favourite. Simply press the 'Fund Account' button within your 'Manage Account' area and use PayPal to checkout. This is the quickest way to fund your account because this will automatically add your blogger marketing budget which you can instantly use for hiring bloggers.
Let our Marketplace job builder do all the hard work!
We'll help you create your listing with our trusty job builder – all you need to do is follow these 11 steps!
Here's a quick rundown of each step – you won't believe how easy it is…
Step 1: Sign in to your Get Blogged account
Step 2: Click "Post A Job" in the top right-hand corner
Step 3: Pick the website you'd like our bloggers to write about from our handy dropdown
Step 4: Select the Job Type – your options are: Blogging & Something Else
Step 5: Decide which subtype your job is. Your options are: Sponsored Post, Link Insertion, Product Review or Guest Post
Step 6: Tell us your desired word count, number of links, and link type.
**We guide you through this process by giving you options in our drop-down menus – if you're unsure of anything, get in touch and we can help you right away
Step 7: Add your anchor links and text
Step 8: Tell us your job title and your job description. As always, we've created some helpful prompts to help you get the most out of these details!
Step 9: Select the Categories, Domain Authority & Location of the bloggers you'd like to work with
Step 10: Set your budget, expiration date, work deadline, and how many content creators you'd like to work with
Step 11: Click Post Job and you're good to go!
What happens next?
As soon as your listing is approved by our team, we get to work sharing it with our community of bloggers. Within a few hours, you can expect to have plenty of pitches waiting to review.

You'll receive emails notifying you of your pitches, and you can log in to your dashboard at any time if you want to browse through all the responses in one place.
How the Marketplace can help your brand GROW
We believe that the Get Blogged Marketplace is your key to easy online growth and connections with influencers. There are countless benefits to using our free platform – sign up here – not only will you have the opportunity to collaborate with countless amazing bloggers, but you can also do it time and time again with as little or as much of our help as you need.
Working with us takes the stress out of outreach and growth. Our team will do everything for you to help you hit your goals!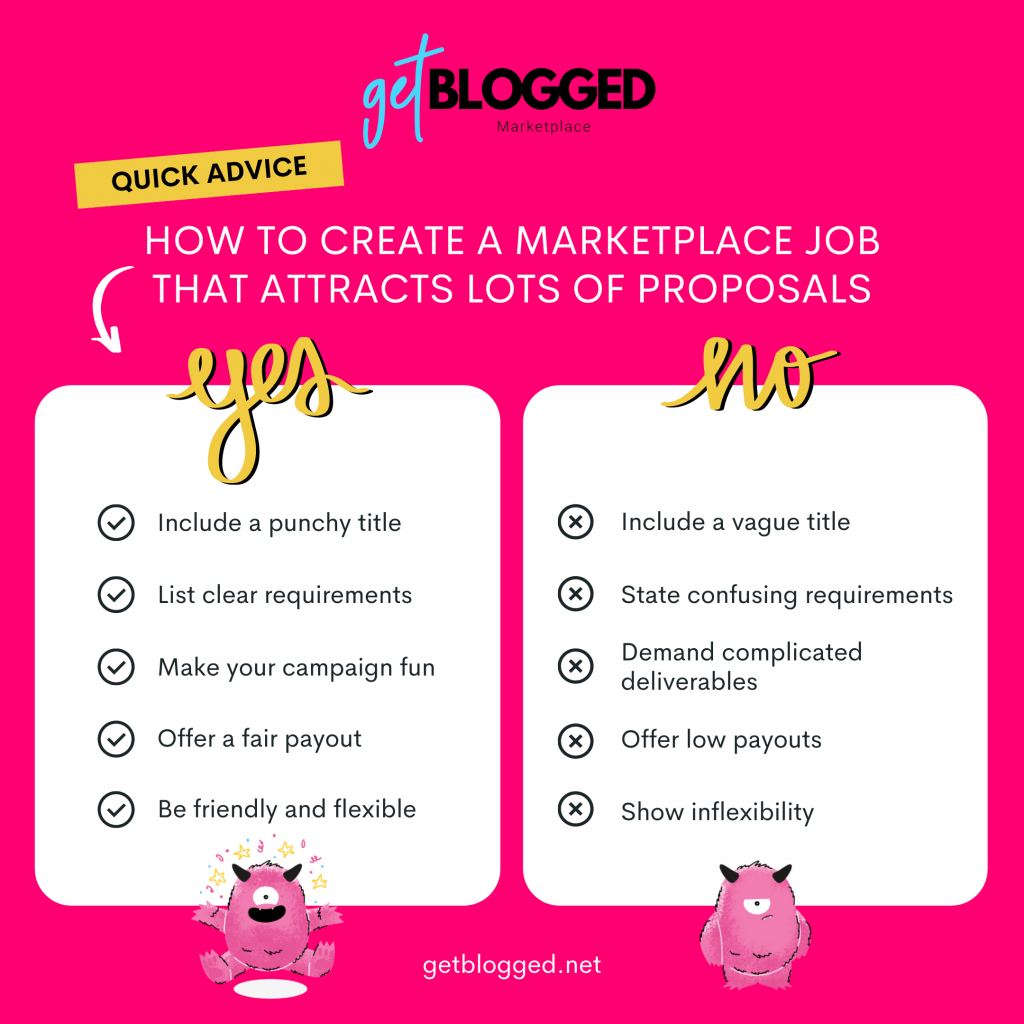 If there's anything at all that you're uncertain about, or you've got specific questions about creating your listing, don't hesitate to send us an email to [email protected] and let us know.
The Marketplace is a self-service platform, but that doesn't mean you're on your own. We're happy to give you all the support you need when it comes to finding the right bloggers and ensuring that you reach your goals. We've got many years of experience with creating and delivering successful blogger outreach campaigns, and we're only ever an email away if you need a little extra assistance.
Your Campaign & Our Capabilities
You can post all kinds of listings on the Marketplace. It's important to know your campaign, timeline, and desired outcome before you begin your listing – but this is something we can help you out with!
Brands often create listings for things like sponsored posts, link insertions, product reviews, and guest posts as well as social media posts. We help you filter your ideal bloggers per their domain authority to ensure you get the best reach per post.
Examples of great titles for your campaigns
The title of your Marketplace listing is incredibly important. It's the first thing to grab our bloggers' attention and it is what can help you stand out from the many other brands using our services.
Your title should be to the point and concise. We encourage all brands to share the domain authority and the category of the bloggers they'd like to work with to their title. Your job's description will help you go into more detail but your title is massively important.
Here are a few examples of well-performing titles in the Get Blogged Marketplace:
DA50+ Bloggers Wanted To Create Content Around Marriage, Relationships, Dating & Divorce This Winter
3 X DA30+ Prepare for a Magical Christmas with Lapland Mailroom
DA30+ Lifestyle, Eco-Friendly & Sustainability Bloggers Wanted
DA20+ lifestyle & interiors blogs to link to page on client's website
2 x DA40+ Assignments for Football Bloggers
As you can see, these titles make it crystal clear what they're after. They even let our bloggers know how many of them the brand would like to work with.
By adding these small details to your listing's title, you can improve your yield substantially!
Our guide on the best descriptions for our listings
To ensure that you get the most amount of bloggers pitching to work with you, you need to make the description of your listing the best it can possibly be!
When creating your job, we guide you through the process with our tips, tricks, and best practices but here are our general rules of thumb:
A good description includes:
Type of blogger you're looking for (lifestyle, parent, fashion)
Specify your desired outcome
Mention the key values and anything unique about the project
Your description can help to set you apart from other brands with live listings.
Tell our bloggers what makes you different from these competitors; let them know exactly what you're looking for in collaboration and how it would be mutually beneficial to work together.
Be as clear as you can – our bloggers are amazing content creators but if they're unsure of your listing, it's possible they won't go on to pitch and apply to work with you.
Let them know what deliverables you want in concise bullet points. Make it as obvious as possible what your goal is and how they can help you.
By having an excellent quality description for your jobs, you can be sure to see more top-quality proposals coming in from our bloggers.
How To Decide On The Right Budget For Your Marketplace Listing
When it comes to creating your campaigns with Get Blogged, you should have a loose idea of your budget, your deadlines, and the kind of content you'd like to have created.
Your budget is important to know – but if you need any kind of support, our job builder can help to give you a guide on how much we would expect a brand to pay per each job subtype.
Here is an overview of the prices you should expect to pay per Domain Authority, per blogger:
DA5+ – you should expect to pay around £25 per blogger, per post
DA10+ – an increase in DA like this would see you paying between £35 – £50
DA20+ – we've got lots of amazingly talented DA20+ on the platform who look for payouts between £45-£60
DA30+ – this rank of blogger expects to receive between £60 – £80 per post
DA40+ – your budget to work with this kind of blogger should be from £90 – £120
DA50+ – for a blogger with a DA this high, you can expect to budget between £120 – £200 per post
Many of our brands rely on Get Blogged to help them find multiple bloggers, often across different domain authorities, to help them grow their online presence, turn their traffic into leads and create new customer bases.
We can help you hire multiple bloggers across many different listings so that all efforts combine to contribute towards one main marketing goal.
If you know your budget before creating your campaign, you can get started right away.
If you'd prefer some guidance on budgets and blogger fees, we can assist you and still have your listing live as soon as possible!
The Hiring Process
We make hiring as easy as pie!
We know the importance of ease of access and we've made it so that you can add the bloggers you'd like to work with to your basket – just like you would if you were doing an online shop!
When your listing is ready to end (as per the deadline set by you when creating your listing), you'll receive a reminder to make your hires.
You'll be able to sign in and look through every single proposal that our bloggers have created and pick your favourite ones to work with. As soon as a blogger catches your eye, you simply need to add them to your campaign.
Once you have handpicked the bloggers you'd like to work with, you will be able to hire them in one smooth transaction.
You'll be required to add the amount shown in your cart to your Get Blogged account. When this has been done, all of your chosen influencers will be notified that they've been hired and prompted to begin working on your collaboration.
Then, it's simply a case of waiting for the content to be created and submitted to you by our bloggers.
You will be able to contact our bloggers at all times during this process should you need to by using our internal messaging system.
As ever, our team are on hand if you have any queries, need advice or support.
Trusted By
We are honoured that a number of well-known brands use our platform to boost their business and build their brands. Each one setting their own goals and running campaigns to promote their products and services to our 19,000+ authentic creators.
"The experience of working with bloggers was fantastic. They delivered on time and with amazing results"
These brands come from a wide range of niches and have all seen positive results from collaborations including increases in brand engagement and recognition, growing organic traffic and enquiries.
"Ever since we've started working with bloggers, every month we seem to be getting more and more organic traffic."
Don't just take our word for it! We have a selection of case studies available for your perusal and some great TrustPilot reviews from brands and bloggers who have enjoyed using our platform.
Boost your business today!
We hope you have found this guide to the marketplace helpful.
Reap the benefits today by signing-up and posting your free job listing today!