Get inspired with our June Awareness Days Calendar and create impactful ideas to boost your influencer marketing campaigns. Our presentational insights will help you craft integrative and captivating content. Let's get creative!
Unlock the secret to success with our guide to trending content! From World Wellbeing Week to Father's Day, June is packed with opportunities for unique and personalised content that will connect with your target audience. Let us show you how to plan ahead and make the most of these exciting events. Trust us, your audience will thank you for it!
So get ready as we delve into an in-depth look at what makes June's awareness days truly special — and don't forget to download our free calendar sheet as a reference before planning June's influencer marketing campaigns.
Table of Contents
June awareness days and events 2023 – free calendar download
June is filled with days dedicated to honouring tons of causes worldwide and offers endless opportunities for brands, bloggers, link builders, and marketers alike. As leaders in influencer marketing, we know that using our end-to-end creator outreach platform to find authentic creators is crucial to increase the performance, engagement and value of your business. Influencer marketing helps you leverage social media and personal blogs to reach new audiences and expand your reach.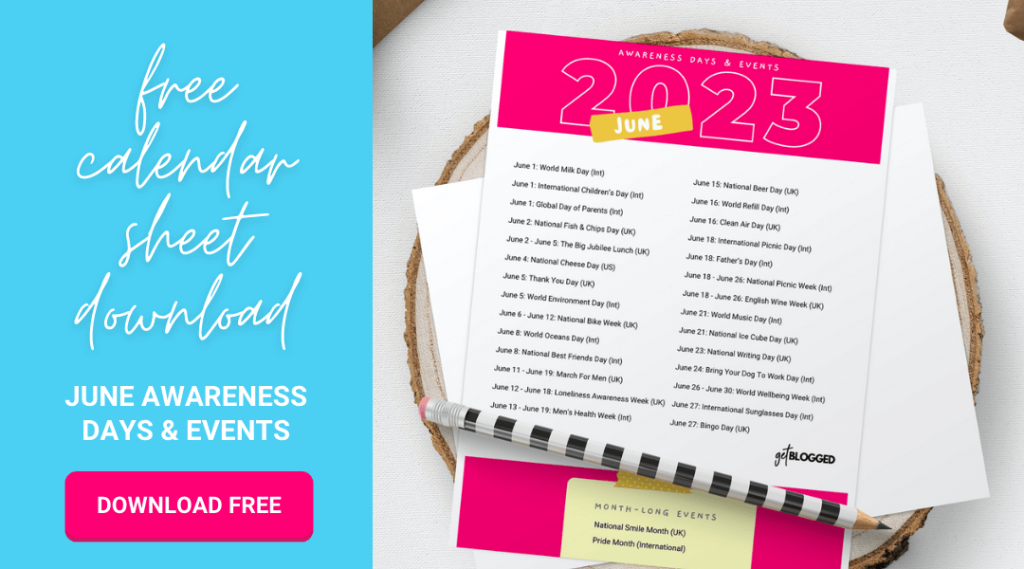 June Awareness Days: Inspiration For Blogger Marketing Campaigns
June 1 – June 30: National Smile Month (UK)
Jun 1 – June 30: Pride Month (International)
June 1: World Milk Day (International)
June 1: International Children's Day (International)
June 1: Global Day of Parents (International)
June 2: National Fish & Chips Day (UK)
June 2 – June 5: The Big Jubilee Lunch (UK)
June 4: National Cheese Day (US)
June 5: Thank You Day (UK)
June 5: World Environment Day (International)
June 6 – June 12: National Bike Week (UK)
June 8: World Oceans Day (International)
June 8: National Best Friends Day (International)
June 11 – June 19: March For Men (UK)
June 12 – June 18: Loneliness Awareness Week (UK)
June 13 – June 19: Men's Health Week (International)
June 15: National Beer Day (UK)
June 16: World Refill Day (International)
June 16: Clean Air Day (UK)
June 18: International Picnic Day (International)
June 18: Father's Day (International)
June 18 – June 26: National Picnic Week (International)
June 18 – June 26: English Wine Week (UK)
June 21: World Music Day (International)
June 21: National Ice Cube Day (UK)
June 23: National Writing Day (UK)
June 24: Bring Your Dog To Work Day (International)
June 26 – June 30: World Wellbeing Week (International)
June 27: International Sunglasses Day (International)
June 27: Bingo Day (UK)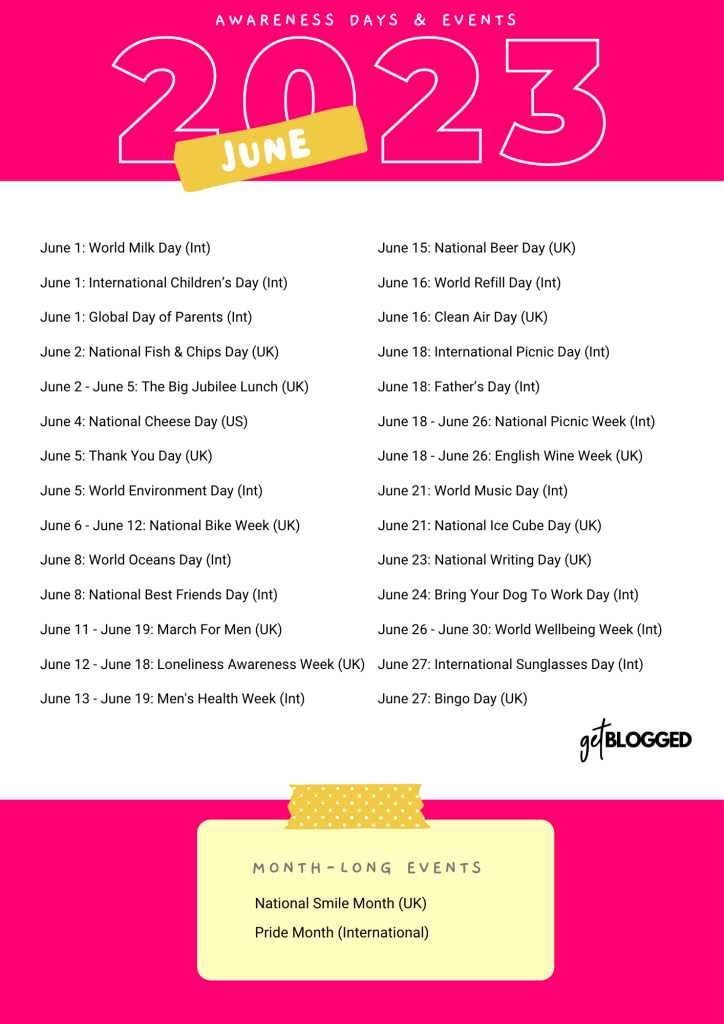 Creator campaign ideas for June
Looking for fresh inspiration for your influencer marketing campaigns? Look no further! Our guide has all the tips and tricks you need to reach new heights with your content. By tapping into the power of influencers and aligning your campaigns with holidays and awareness days, you can create content that resonates with your audience and drives engagement. Let's work together to effect meaningful change and spark action with your target audience!
UK Summer is coming… (finally!)
Who doesn't love fish & chips, sunny days, and trips to the beach? That's why fashion retailers are tapping into the power of fashion bloggers to create the ultimate seaside lookbook. Food brands are also enlisting the help of Instagrammers to do tasty taste tests in the sunshine. And why stop there? Home brands are asking bloggers to create the ultimate picnic in their garden using their products. So sit back, relax, and let these influencers inspire your next summertime adventure.
Connect with family bloggers and promote your summer food and drinks range with summer and picnic-themed Instagram reels. Join the run-up to National Picnic Week and capture the attention of your target audience. Let's make this summer season an unforgettable one!
Looking to boost summer travel? Try launching a travel promotion! Consider offering discounts or teaming up with travel influencers to spread the word about your brand. Get creative by asking influencers to showcase your products in their must-haves list, or collaborate with Instagrammers on travel reels packed with advice on solo, safe, and realistic travel. Let's inspire people to hit the road (or runway!) this summer!
Father's Day Influencer Campaigns
Get ahead of the game for Father's Day! Partner with parent bloggers to create a comprehensive dad-themed gift guide featuring your best-selling products.
But don't stop there! Collaborate with Instagrammers to showcase their favourite dad memories while incorporating your brand's values and products. This approach will help you connect with their audiences on a deeper, emotional level. Keep your Father's Day campaigns creative, engaging, and fresh with these simple tactics.
Create a memorable Father's Day experience with a special promotion like a discount code or a freebie with a purchase. Plus, let bloggers and Instagrammers spread the word by sharing their personalised code in their promotional Stories and Reels or as a sidebar banner on their blog! Watch your sales surge in the run-up to the holiday.
Celebrate Father's Day in style with an exciting social media contest! Get your customers and influencers to share a photo of their dad along with a heartfelt message on why he's the best for a chance to win an amazing prize or a discount code for their favourite products.
Create a blog post featuring heartwarming stories, creative gift ideas, or tips for making the day special. Get your readers excited and engaged while commissioning bloggers to help drive traffic to your content.
Leverage National Friendship Day
Celebrate National Friendship Day with a unique twist – collaborate with lifestyle bloggers and showcase your jewellery brand through the ultimate friendship bracelet! Bloggers will use your best-selling products to create stylish and meaningful accessories. Take your campaign to the next level by adding personal Instagram stories where our bloggers share their own stories. Don't miss out on this opportunity to connect with your audience and promote your brand in a fun and authentic way!
National Writing Day
Embrace National Writing Day and connect with bloggers to promote your business! Hire lifestyle bloggers to share their passion for writing, blogging, and content creation. Boost your engagement with high-quality written content inspired by their hobby and side hustle. Let's spread the love of writing together!
Work with LGBTQ+ creators during Pride Month
Get Involved in Pride Month: Launch a campaign to show your support for the LGBTQ+ community! You could create rainbow-themed products, partner with influential LGBTQ+ members to share their stories or donate to a charity.
Food and drink brands can host virtual Pride events to connect with their audience and share branded promotional products. Share your fun and unique brand with a wider audience and connect with new followers through Instagram stories, lives, and reels. Let's come together to celebrate love and acceptance!
Run a World Environment Day Campaign
Join the sustainability movement with a World Environment Day campaign! Inspire customers to live more eco-consciously by promoting green products and lifestyle changes. Partner with green lifestyle bloggers to create a helpful guide or tips post and showcase your dedication to the planet. Let's make a positive impact together!
Crafting influencer campaigns around awareness days in June
Collaborating with bloggers and influencers is a powerful way to boost your content strategy, create excitement around your products, and reach fresh audiences. With these practical tips and techniques, you'll be equipped to attract the ideal influencers, establish beneficial partnerships, and make the most of Awareness Days in June 2023. Keep in mind to tailor your pitch and prioritise long-lasting relationships that add value to both your brand and your content creation partners.
Lacking inspiration? Let us ignite your creativity by tailoring a unique blogging campaign that fits your brand. Our platform is not only simple to use but also won't break the bank. You can list your campaign for free and hire talented bloggers for as little as £26 + VAT. Get started now!