So, you've browsed through the Marketplace and spotted an assignment that would be perfect for you. You've clicked the 'submit proposal' button and suddenly your mind has drawn a blank.
We understand that putting together a pitch for a job can be a little daunting so we've put together this pitching masterclass post to help you craft eye-catching proposals which brands just simply can't ignore.
Perfect Your Profile
First things first, one of the most essential elements of your account is your profile. It represents you and your blog and helps a brand can get to know you and decide if you are suitable for their collaboration. We have a fantastic, comprehensive guide to perfecting your blogger profile which is a must-read for anyone wanting to attract more hires. Brands can see stats from your profile on your pitches so it is really key to make sure nothing is missing.
Top Tip: A common mistake is to add social channels to a profile but forget to associate them to a website which means that when you submit a proposal it says you have 0 social followers. It really is worthwhile checking to make sure your social accounts are connected to your website on your profile. See our guide to adding your social channels and associating them to your site here.
Picking a title
Don't overthink it. A short, snappy title is the best choice. Shout out why you'd be great for this assignment, or why you stand out in a few words. Think of it as an opener to the rest of your fantastic proposal.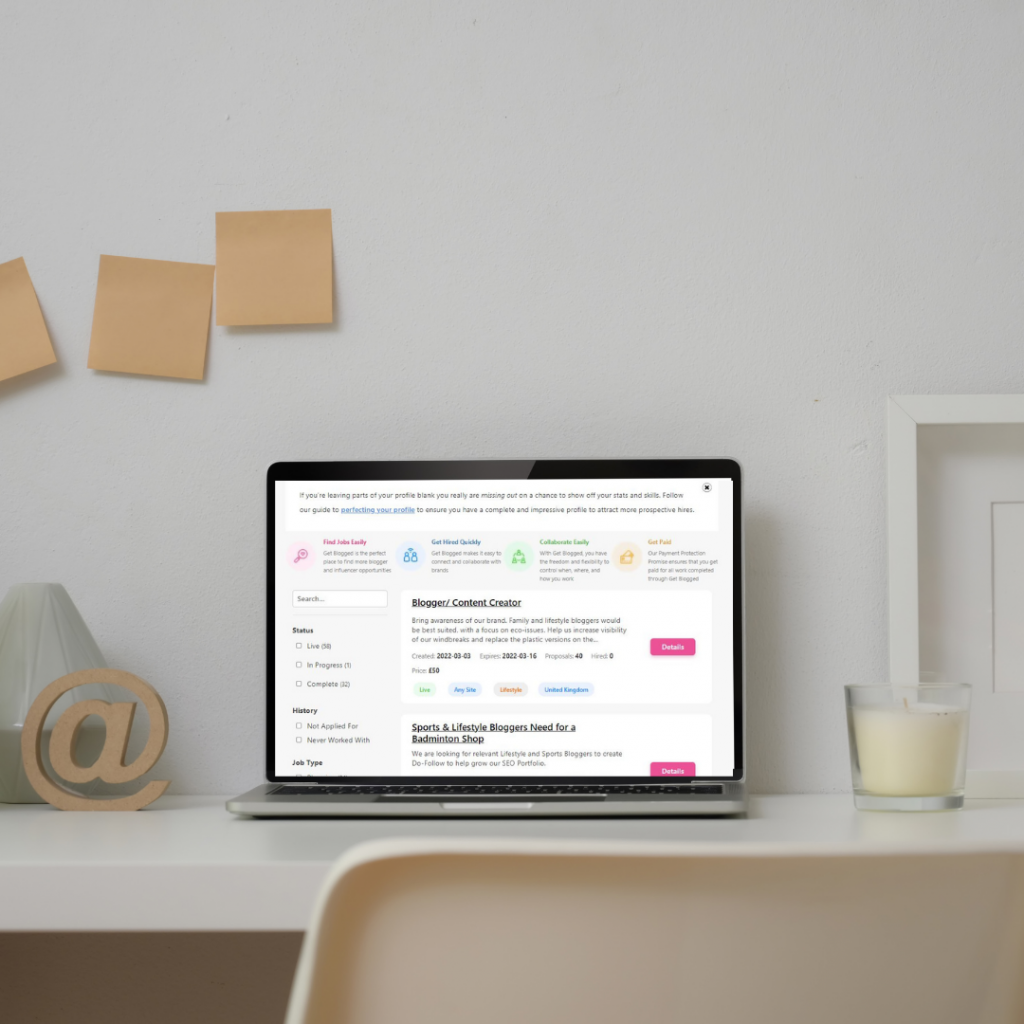 Introduce yourself
Tell the brand a bit about you, so they can get to know the person behind the blog. Tell them why you love your niche of blogging, how long you've been blogging and why you started blogging. Share some blogging highlights – have you won any awards or placed in a top 100 list? Stand out from the crowd by showing the brand your personality and that you are more than just an avatar.
Why this assignment?
Let the brand know why you're the perfect match for that particular assignment. It is worth taking a few minutes to research the brand and get to know their field. Be enthusiastic! Why did this opportunity catch your eye? Do you have prior experience or expertise with the subject matter? Have you written about the topic before? Why would you be a good fit to work with them?
Brands love it when you share a personal story or experience, or you mention a piece of research in the subject area that you think your readers would love to hear about. Pointing out that you are knowledgeable about their sector or product will make you stand out against other proposals from people who may not have the same experience as you.
Include previous examples
On top of telling the brand why you would be perfect for the assignment based on your previous experiences, be sure to back this up with examples of previous collaborations or posts on relevant topics. This gives the brand a chance to see the quality of your work as well as your knowledge on the topic. This is particularly useful if the assignment is for a link insert. 
Include metrics
Each brand looks for different metrics, so it's a good idea to include as many as you can in your pitch. Most brands will have a metric in mind, such as domain authority, domain rating, trust flow or spam score – to name only a few. Brands will usually mention what metrics they are looking for in their brief, so be sure to include those in your pitch. It's also important to include your social following alongside your blog metrics as some brands take this into consideration when choosing hires.
Tell them your content ideas
Detail how you plan on tackling the assignment and how you'd bring it to life. What angle will you take? Be specific in what you can offer and show understanding of the brief so the brand will be reassured that you really know what they are looking for. Include the title of the post you'd write, as well as some brief bullet points explaining the points you'd cover in your post.
To template or not to template?
It may be tempting to copy and paste the same generic pitch for all the assignments you are interested in because it's quick and easy. Although this may be an efficient way to submit proposals, most templated pitches that we see are not particularly relevant, interesting or engaging because they lack specifics.
There are definitely sections that can be copied and pasted, for example, information about you and background information about your blog can be kept the same, and most metrics will remain roughly the same over time. However, adding information about why you are a good fit for the specific assignment and including how you plan to approach the task is really key and should be bespoke to each pitch.
Help us to help you!
You might not realise that the Get Blogged team works really hard behind the scenes to promote you and your pitches to our brands. We love seeing a detailed, tailor-made pitch that includes lots of great information about you, your blog and your approach to the assignment. It really helps us to craft our recommendations when we're putting you forward to the brands. Please help us help you by providing us with a detail-packed, bespoke pitch! If we love seeing these details then brands are bound to, also!