When it comes to starting a business, getting the word out can be tricky… plus it can gobble up your marketing budget like a hungry squirrel. Even established businesses need reach. Bloggers and influencers can help you with this, so that's why we've outlined 15 blogger and influencer marketing campaign ideas to help you grow your reach.
But before we jump into the campaign ideas, I've started by outlining the reasons and the benefits of working with bloggers and influencers, and I've also covered popular topics that bloggers cover. Let's dig in…
Table of Contents
5 reasons to work with bloggers and influencers
Many business owners alone don't have the reach to attract a loyal customer base, so they need a tribe to advocate for them. This is why the power in (third-party marketing) influencer and blogger marketing is so great. The right campaigns can propel your business by reaching your perfect customers in an authentic and highly-relevant way.
Here are just a few reasons why it's a must to work with bloggers and influencers:
Bloggers and Influencers can help you launch new product and services.
They can help you build authentic reviews for prospective customers to read.
Bloggers can link back to key pages of your site to help strengthen the authority of your web pages and in turn, improve your search engine rankings.
Your referral traffic will increase the more bloggers you collaborate with.
Bloggers can help with your brand recognition by introducing you to their audiences.
Bloggers and Influencers can help you reach your perfect audiences that paid ads can't target.
What are the benefits of collaborating with bloggers and influencers?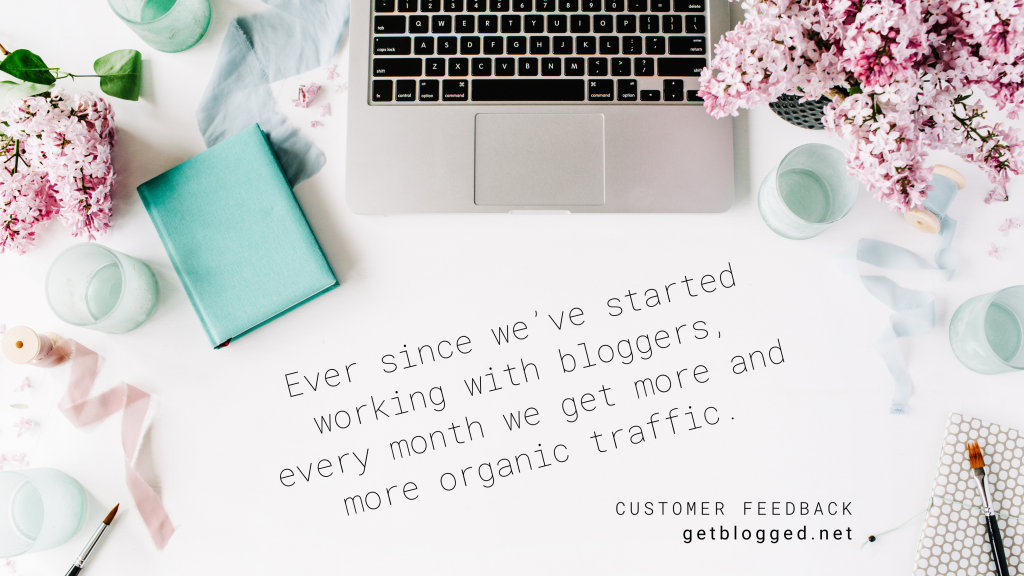 Bloggers and Influencers can help you with so many aspects of your marketing campaigns and business growth.
There are a heap of benefits to collaborating with bloggers and influencers, but the main ones fall into 5 categories:
Increase in website traffic and/or footfall
Increase in sales revenue and margin
Improved search engine rankings
Improved reputation and increased trust
Increased reach
If you'd like to read more about the benefits other businesses have experienced whilst working with bloggers and influencers, have a look at these case studies.
What subjects do bloggers and influencers cover?
There are so many collaboration opportunities to help grow your reach with bloggers and influencers.
To start with, here are just some of the categories bloggers and influencers cover authentically:
Mental health, from anxiety to PTSD, grief to depression.
Physical health, from chronic illness to broken bones to childbirth recovery.
Reproductive health, from endometriosis to infertility to pregnancy and childbirth.
Nutrition, food and drinks, from recipes to meal planning, diets and healthy eating.
Learning and education, from early years to further education and aprenticeships.
Fun and activities, from hobbies, games and crafts, art to days out.
Travel and culture, from camping to road trips to flying, to art, theatre and music.
Fashion and style, from second-hand and sustainable, to cult brands and trends.
Hair and beauty, from skincare to makeup, haircare to hair colour.
Lifestyle, from sustainability to interiors, homes and gardens.
Finances and money, from money management, saving and budgeting to mortages and insurances.
Tecnology, from devices to software, manufacturing to machinery.
Work and business, from time management to childcare, side-gigs, careers and marketing.
Relationships, from marriage and weddings to separation and divorce.
And the list goes on. And on. Every content creator has their own unique take on the subjects above and brings their own authenticity across in their content.
Grow your reach with these 15 blogger and influencer campaign ideas
There are so many authentic angles to explore for blogger marketing campaigns, but here are 15 fresh blogger and influencer campaign ideas to explore:
1. Seek honest reviews to launch your new products
If you produce and/or sell products, bloggers and influencers are your absolute best advocates! When you collaborate, you'll get real feedback, real-life product imagery (perfect to use on your other marketing channels,) and loads of new fans as standard. Go the extra mile and give the blogger a unique code to share on their socials that offers their audience a sweet discount and you'll have that one collab paying off for years to come. Backlinks in authentic content? Yes. Referral traffic? Yes, please! New, loyal customers? Heck, yeah.
2. Get your services featured in highly searchable content
Perhaps you're a financial services provider, and you're looking to get high-quality backlinks to your insurance services web pages to boost their authority and traffic. Collaborate with bloggers to create a series of guides about must-have insurances. Boost the authority of the post and produce some interesting infographics, quotes and research for the blogger to share in their series. You could also run a giveaway where one of the blogger's readers enters into a competition to win a prize in return for visiting your website or sharing one of your Linkedin posts for example. Rafflecopter is great for that.
3. Find your tribe with local bloggers
You really want to promote your new cafe to people in your area. Your Facebook ads are bringing you a steady stream of customers but you really want a niche tribe to fall in love with your local produce offerings, fresh coffee and great facilities. Find local influencers with a loyal following whose recommendations are tried and trusted. Collaborate with them to dish out discount codes, run giveaways (like free coffee vouchers,) and share beautiful photos of your beautiful produce. Seek the bloggers' permission to plaster their recommendations all over your socials to get more bang for your buck.
4. Amplify your sales with gift guides
Brainstorm all the sales opportunities and all the niche audiences you want to get in front of and match bloggers to promote your products. Perhaps you sell stationery, and a blogger in your niche has a really popular "how to prepare for school" guide, why not ask them to add some of your stationery products into their guide? Or, you've just produced a new flavour of gin; get your gin in gin-lovers gift guides (yes, they exist!)
5. Let stylish influencers turn your new ranges into most-wanted pieces
Your new range of organic cotton and recycled clothing just dropped. But sales are slow. Bloggers can help with that! Choose the most stylish bloggers to showcase some of your best pieces on their social channels. It costs less than you may think to work with popular influencers, and we have plenty of fashion bloggers waiting to hear from you on Get Blogged.
6. Reach a wider audience with fun product placements
Your sustainable party supplies are flying out of your Amazon store, but you need some authentic reviews on your own site to help entice your ideal buyers to engage with your brand there instead. No sweat. Hire some bloggers! Gift your chosen bloggers a beautiful package of your party supplies, and challenge them to throw a sustainable party for all their friends and family. Think how many people will see your products on their buffet table for one. But their blog audience will read all about their party and paw over their pics of how they styled your party supplies and want to get their own.
7. Commission honest reviews to help to strengthen brand trust
You have proudly developed an organic serum that combats the signs of ageing skin, but you can't seem to get any traction with attracting high-quality site traffic. Bloggers and Influencers can help you with that. Commission a trial where bloggers use your serum over a few weeks. Get them to document the improvements in their skin with an online diary and imagery. There you have it, highly authentic reviews all over the internet waiting for your perfect next customer to check out.
8. Sponsor bloggers to take part in product trials
Supplements are your passion, and you have developed a high-potency blend for active people. You could create a similar campaign to number 7; get bloggers to trial your supplements and diarise their thoughts and feelings in a series of blog posts. You could sponsor a few parent bloggers with new babies in the quest to help them through post-partum exhaustion or support someone with chronic illness through getting back to an exercise routine for example.
9. Commission informative content to delight your ideal customers
You'd like to start spreading the word about your garden buildings to support your usual spike in sales during the spring/summer garden season. Other than gifting campaigns, (because that would be many ££££s to gift a blogger a garden building,) try working with bloggers to promote your garden office offerings with content marketing. You could work with them to come up with some authentic content around the pros and cons of garden offices, and everything you need to know including costs, timings, space and materials needed. Not only would this attract some relevant organic traffic to the content which helps to strengthen the authority of the page (and your backlink,) but as traffic to that page builds, it would provide you with a steady stream of pre-qualified referral traffic.
10. Challenge bloggers to create something to be proud of
Your eco-friendly gluestick is not resonating with your customer base (yet.) Summer holidays are fast approaching and you'd like your products to be in the craft boxes of every child in the UK. Bloggers will help you spread the word amongst the children's craft community (which is massive btw.) Collaborate with crafty parent bloggers by sending them a brilliant box of crafting materials with your gluesticks front and centre. They love cutting and sticking, so you could challenge children to create a summer masterpiece and then share it in your virtual gallery on your website. Not only would this create some great buzz around your brand, but your eco gluesticks will gain some new loyal customers.
11. Collaborate with blogger and influencers during key events
OK, if I reel off all the key events during the year I will be here all year! To name a few we have Valentine's Day, International Women's Day, Mother's Day, Father's Day, Singles Day, Black Friday, Easter, Christmas, and Halloween (check out our free editable calendar here.) Not only are these events (and there are so many more) a brilliant excuse to offer discounts and promos, but bloggers and influencers also ramp up their content around these events. So get on that bandwagon and sponsor some timely content. For example, get people looking for Mother's Day gift inspiration to click on your products within gift guides and reviews.
12. Choose highly-relevant bloggers to share your discount codes
You know the entire human race love a bargain, right? I don't part with my cash until I've done a quick search for a discount code. I won't go into the psychology of customer behaviour right now, but we all know that price has a massive part to play in people's purchasing decisions. When you're collaborating with a blogger, give them a personalised discount code to share with their readers. Not only will this attract more views from the discount-code-seekers amongst us, but will also help to entice those readers to buy what their favourite bloggers are recommending.
13. Get featured in high-traffic content
There are some brilliant tools to help you discover high traffic content on blogs. For instance, on my parenting blog, I have a post that gains a huge amount of traffic and is ranked number one for some very competitive terms. Imagine if I included your link on that page… This is a great strategy for gaining highly authentic backlinks and a number of brands are running these types of campaigns on Get Blogged right now.
14. Get bloggers to share your prize draws for more entries
Your beautiful eco-friendly flower delivery business is approaching a busy, flower-buying period (think valentine's day) and you'd like to attract some new customers around this season. Run a prize draw to win your best bunch and get bloggers and influencers to feature your prize draw on their socials for a few extra free entries. The offer of a few free entries will not cut it for some bloggers and influencers, so why not offer them a bunch of flowers in return for sharing and writing about your prize draw.
15. Build a tribe of brand ambassadors
Say you're a book publisher, and you're launching hundreds of books per year. Bloggers and influencers are the most perfect advocates for you. Over time, build a loyal list of brand ambassadors (press-list-stylee) so that you can systemise your campaigns rather than outreach to a new tribe every time. Every month (or when a new book is published) send books out to your press list and watch as your brand ambassadors get to work to spread the word about your new books.
How will you grow your reach with bloggers and influencers?
The campaign ideas showcased here continue to increase the reach of the brands using Get Blogged. We're thankful to every single one of our 19k bloggers and influencers on Get Blogged collaborating together with brands on a wide variety of campaigns. Discover the perfect bloggers for your new campaigns on Get Blogged today. Join below and post your campaigns for free.